Archive for the 'Music' Category
I'm writing this on the day after Canada Day, which always feels like the start of the week to me. Living in Canada's capital city means that you're going to get involved in some way, no matter how low-key, in our national celebration. Yesterday's revelry took place in lots of heat and humidity, and in the afternoon, there was a tornado warning — something that isn't exactly commonplace for Ottawa.
Today, I was surprised by news that a music festival in my home province of Nova Scotia is cancelling its 2014 edition (scheduled for July 4-6) because a very early tropical storm seems like it will hit Canso, the home of the Stan Rogers Folk Festival, right when they're supposed to be making music for an adoring crowd.
Outdoor events are by definition unpredictable. I was on the board of the Ottawa Folk Festival in 2010 when torrential rains made most of the site unusable and dealt a crippling blow to our finances. And in 2011, I was in the crowd at the Ottawa Bluesfest to enjoy a Cheap Trick show when a freak storm blew in and this happened (video shot by another bystander):
Fortunately, nobody died during that stage collapse, although there were injuries. Litigation over the collapse is still going on.
My experiences with music festivals have left me with an abiding interest in crisis preparation and response. And one of the most important things you can do as an organization is to have a "dark page" ready. What's that, you ask?
A dark page, or a dark site, is a pre-developed website that you can use in place of your organization's normal site in the event of a crisis of some sort. Why do this?
Well, if you look at the Stan Rogers Festival site, the cancellation media release is two clicks in. The main page, merrily promoting the festival and selling tickets, is what I see when I visit. Fortunately, you can't actually complete a ticket purchase, but a casual visitor wouldn't know what was happening.
If the Stanfest site had pulled down its normal page and replaced it with a simple site explaining the situation and informing various groups (ticketholders, performers, etc) of what they needed to know and how to get more information, the communication would be much more clear and straightforward.
Also, if anyone tries to share the news of the cancellation on Facebook, the site feeds FB information about the 2013 and 2012 dates, a fault in the HTML coding of the site:
Fortunately for Stanfest, their fans seem understanding and conciliatory. But if those fans begin to ask for information about refunds or rescheduling without quick answers, the patience may wear thin.
I fervently hope that the storm amounts to very little and that the folks behind Stanfest are able to put something together to salvage the festival.
Whatever your business, you should put a little thought into this. Crises happen everywhere, all the time. If you want to learn more about this, feel free to contact me, or you could read my friend Ann Marie van den Hurk's book "Social Media Crisis Communications." She's a superb thinker on this topic.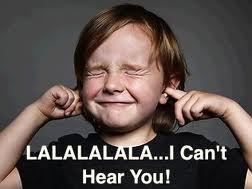 I did something last weekend that I'd never done before. I played music in a bar as part of a fundraising event. I've played music around campfires, I've played music in houses, I've performed solo at Bytown Ukulele Group meetings, I've jammed with people, I've participated in songwriters' circles, even on an open-mic on a boat as part of a conference. But never in front of a crowd of strangers.
Thankfully, my performance went pretty well, I think. I was pleased. But one thing that I wasn't prepared for, even though I've seen it a million times from the other side of the stage, was not being listened to.
I've done a lot of teaching. I've done lots of presentations. And I've had these musical performance experiences. The commonality among all of those things? I as the "performer" have the expectation of being listened to. When I stand in front of a classroom, or conduct a webinar, I assume that people are gong to be listening to me, watching the slides, etc.
So to have a bar full of people happily chatting while a PA system blared my voice and instrument out into the room was disconcerting. It was a painful reminder of what professional musicians face all the time — they're being paid to perform, but there's no obligation for the spectators to attend to them.
My set wasn't long enough, and my courage (confidence? arrogance?) not strong enough for me to DEMAND their attention. So I played through my songs, took the applause, and left the stage. The good news was that no matter whether a person listened to me or not, they paid to come to the show, which meant the cause benefited from them. Further good news (for me, at least) was that I wasn't so beset by stage fright caused by their inattention that I froze up (something that's happened before, to my chagrin — but at least it gave Chris Brogan something to write about!)
But since Saturday, I've been thinking about it. My conclusions?
There are circumstances and ways you can bring people back to you. But there are also circumstances when you can't. I once saw Josh Ritter silence a noisy bar by playing his first song unplugged and wandering through the audience. People were intrigued enough by this unusual behaviour that they fell silent, and by the end of that song, the room was silent. I wasn't going to try that one.
There are times when you ought to accept the circumstances as they are. Sometimes people just aren't interested in hearing from you, and it doesn't matter how loudly you're singing, or even if you're singing (or teaching) incredibly well. I once taught a class where one of the students fell asleep every time she came to class. There would have been a time in my life where I focused on that as a sign I was failing the student. But I now believe that the process of "performing" requires both the performer and the audience to be present. Whatever the reason, sometimes your "audience" can't be there for you.
You still have to bring your best. Even if your audience is not listening, you owe it to yourself to deliver just as passionately and as well as if you had people in the palm of your hand. Yes, it's harder (just as doing webinars is often harder than presenting to live audiences because you lack any feedback); but you still have to.
The final thing that I've thought in the wake of my experience? I want to try it again. I want to figure out some of those musician's techniques of getting an audience's attention for myself. Who knows: maybe becoming a more accomplished musical performer will make me a better communicator.
And if you want to see the performance? A quick trip to my Tumblr will let you get a sense of what the show was like.
S
ince I have a foot in the music "industry", one of my regular reads in my RSS Reader is the Musician Coaching blog by Rick Goetz. He quite often has posts of interest to me. But last week, he had one that hit me right in the bull's-eye: an interview with a singer-songwriter about how she built her career around house concerts.
About now, you're asking what a house concert is. Quick explanation: a house concert is a musical event where a host opens up his or her home to a performing musician, and that musician is paid by donations from the audience. My partner and I started doing house concerts in 2007, and have had about 40 evenings where amazing musicians have left audiences laughing, crying, or just about any reaction in between.
After I carefully read the post, I left a comment praising the post, adding some background and context, and correcting (politely and constructively) some misstatements. That was on March 21. I waited a while, then dropped back to the site to see if there was any response to my comment. It was still in moderation. And, as I write this, there it remains, in moderation. After a few days I emailed Goetz to ask if there was some reason my comment wasn't being approved, and I tweeted him as well. To this point, I haven't heard from him. It's been five days.
I'm not egotistical enough to think that being deprived of my comment is something that will affect anybody. But I do want to point out a problem that many websites face – handling comments well.
To effectively manage commenting, there are two things to keep in mind: your policy, and your technology.
First, policy. Decide if you even want comments. Most of the time, the advantage of comments — the extension of the conversation —  outweighs the disadvantages. But if you are concerned about abusive comments, about spam or malware, or have another reason for not wanting to allow comments, then that's a choice you have the right to make. For example, übersite Copyblogger has just ended commenting on its site, arguing that the conversation shouldn't be confined to its own property, but should be "in the cloud." I don't quite get that, but hey, they're way more important than me, so …
You need to think about whether you are going to allow anonymous comments. I am generally of the belief that you should be confident enough in what you say that you're willing to say it under your own name. Much of the worst vitriol online is generated by people using anonymous handles rather than real names. There's no "right" answer to this beyond the answer you decide is right.
If you decide to accept comments, then you need to think about how you're going to do it. You can let the floodgates open up and allow people to comment willy-nilly, without moderation. You can have people moderated the first time, but are given free rein once they've had a first comment approved. You can always have comments moderated. If I'm working in that environment, I get email notifications when I have comments, and I pretty much ALWAYS immediately click on them. If you're going to moderate, you're pretty much committing to TIMELY moderation or you're going to take the wind out of the conversational sail.
If you moderate, you also need to make clear somewhere on your site why you moderate, and under what circumstances you won't approve a comment. It's much easier to point people to your house rules and explain why what they wrote is not going up on the site: personally abusive, obscene language, racist content, etc. are some of the reasons that are quite valid for rejecting a comment. AND DO NOT rewrite anyone's comments. That's just not done.
Now, to the technology.
Most modern blog software have built-in commenting systems. My usual recommendation is to ditch those. They're pretty rudimentary, and there are better ones that you can plug in with little difficulty. There are three that are commonly used: Livefyre, Disqus, and Facebook. The nice thing about these commenting systems is that they allow things like threaded discussions, so that you can follow the flow of a discussion. They also allow people to sign in using a variety of social media tools (e.g. Sign in using Twitter, Google, etc. etc.). That makes it easy for people to sign in. While I'm not a giant fan of Facebook-based comments, there's one undeniable advantage to them — when people comment using the FB comments, it will more often than not pop up on their wall, which may lead to people discovering your post from the commenter's wall.
So put a little thought into your strategy around blog commenting. It'll pay off down the road.
We all perform in our daily lives. We "play the part" of manager, or leader, or creator, or educator. But what do we bring to the performance? Something that happened on Saturday night got me pondering the nature of performance.
One of my hobbies is putting on house concerts. The short version of what this is: a musician comes to my house, then people come to hear him, her or them and pay them for the pleasure of listening. It's a well known way for folk and roots musicians to play. On Saturday night, we hosted David Newland, a friend and musician from Cobourg, Ontario. And as is fairly common, I played a couple of songs to open the evening.
Now, I am not a professional musician. I am an amateur. In as many senses of the word as you would like to apply. But be that as it may, I sing sometimes.
On Saturday, I was thinking about next weekend's Remembrance Day. My father was a veteran, and for the last several years sold poppies in Cape Breton on behalf of the local Legion branch. And for about 12 years, I was a member of a marching band that played many Remembrance Day ceremonies. The music of the wars, from marches to Vera Lynn, is still in my head. And my dad died in August, so he is very much on my mind.
So I decided to play a song that I heard on many Remembrance Days on CBC Radio shows, hosted by the legendary Max Ferguson. "The band played Waltzing Matilda" is the story of a young rambler in Australia who goes to Gallipoli in the First World War and suffers a terrible injury. It's a beautiful, but a sad song, written by a great Australian named Eric Bogle.

Something happened during the performance. I wasn't quite aware of it, because for most of it, my eyes were closed. But when I finished, I saw that one person was crying, and afterward, someone told me that it had been the highlight of the evening.
So what did I learn from this? A few things:
Emotion and passion are good things, not bad. I think the reason that song affected people as it did was because of the emotion I was feeling when I sang it. If you can't bring emotion to your performance — whether it's a song on a stage, a speech, or a presentation at a meeting, you can't affect people. Don't be afraid to bring the personal out.
There was a time in my life when I kept a lot of important things submerged deep. But one thing I've learned through things like this, or through speaking at TedX Ottawa a few years ago, is that people want to learn what makes people tick. They don't want glib. They don't want superficial. If you give them more, they'll take it.
"Performing" with these things in mind is hard, it's draining, and it's uncomfortable. I don't yet know how to deliver at will a musical — or even a spoken — performance that is grounded in emotion. More often, the balance tips to the head and away from the heart.
And I learned, one more time, that I miss my dad.
The next time you have a public performance to do — musical, spoken, or otherwise — don't just do it from your head. Do it from your heart. Don't abandon logic, but find the emotional core of what you have to say and say it with passion. You'll thank yourself. And your audience will too.
So it is New Year's Eve2  (New Year's Eve Eve, that is) and the time for all bloggers to either post a "best of whatever"  or a look-forward list.
I am of the opinion that Mark Blevis is on to something when he talks about someone aggregating all the best of, top 10, etc. lists that people create, so you can save time and read the "best of the best of" and save time.  But it won't be me.
So I guess that leaves looking forward, mostly.
What am I looking forward to in 2012?
In 2011, I found myself in the "smorgasbord" period of my life. I saw an even better description of this this morning, when Stuart Bruce in the UK describes himself as having "'gone plural' and decided to pursue a portfolio career." I love the idea of a "portfolio career" as a descriptor of what he's doing, and of what I'm doing — PR & social media consulting + podcasting (hopefully as a part-time sources of income) + part-time teaching at Algonquin College + private training + handling membership services for OCFF + doing promotion and media relations for musicians I love. Sounds more professional than smorgasbord (unless you're Scandinavian, maybe). In 2012, I want to get a better handle on managing every part of this "portfolio career."
As I have for the last five years, I am looking forward to more house concerts. When I first got bladder cancer (and turned 40) five years ago, I went through a bit of a struggle to figure out ways of pursuing what made me feel fulfilled and happy. At the top of that list was music. Thus was born BobCat House Concerts, with the support and patience of my partner Cathy. We are going to celebrate five years of those concerts, which bring amazing musicians to our house to perform for us and our guests, in February. It has been wonderful to expose people to the musicians that I love, and to have become friends with so many talented people. I have to single out our friendship with David Ross MacDonald, which has become really important to us. It helps that he's a musical treasure. But even if he never wrote another song, I'd still want him in my corner.
And that initial splash into the "music industry" has led to a recently-ended term of service on the board of the Ottawa Folk Festival, to working with OCFF, and to the plans I currently have underway to launch a new "commercial" concert series in Ottawa.
I'm looking forward to inaugurating the FIR Book Club this coming January. It's been a real pleasure reviewing books for the For Immediate Release podcast (and hopefully the authors would agree), and I'm hoping this new "talk-radio" call-in with authors of interesting PR and social media books will be lively and entertaining and informative.
I'm looking forward to finding out if a podcast about Stephen King can actually make its owner a little money. I suspect that the "nichiness" of my podcast the Kingcast may make it an attractive enough target for people seeking to find and reach Stephen King and horror fans that they'll be willing to pay for it. Time will tell.
I'm looking forward to continuing my conversations with friends and podcasting partners Mark Blevis on PR and other Deadly Sins and with Joe Boughner and Susan Murphy on The Contrarians. Sometimes you don't know what you think about something until you write about it. Or talk about it.
I want to spend a little more time on fiction writing. I've spasmodically worked on fiction projects. But I've got finishitis. So I want to FINISH some fiction and see if anyone other than me thinks it's any good.
Man. Sometimes I get a little stressed out working on all these different projects. But when I write it out like this — that's a lot to look forward to. I hope your lives are as full of fun and potential as this.  And if not — why not do something to make them that way?
A man's reach should exceed his grasp, or what's a heaven for?
Happy 2012. Reach for something out of your grasp, why don't you? And just because I like it, here's a YouTube video that is quite sweet. 
Hi there. It's been a while. I've been busy, having a little cancer and trying to get a handle on a new job and stuff. But I'm good. That's not what I want to talk about today. I want to talk about this:
Several years ago, I went to PAB in Kingston, an annual conference that brings together a community of people who create things like blogs, podcasts, videos, and all sorts of other new media content. What stuck with me from that trip was the power of perception on an experience. And I was reminded of that in spades this year.
Every year, PAB has had a boat cruise. And every year, there's been an open mic on the cruise.
The first PAB I went to, in 2008, I thought I'd take a turn at the open mic. I was not, at that point, experienced at performing in public. Playing music, at that point, had been something that had an odd mix of eagerness and … well, shame.
So I got up. And sucked. I couldn't remember lyrics. I couldn't get everything together. It was embarrassing and humiliating. I tried not to sotp until I got through a song. Eventaully, I crubled and stumbled my way through something. I don't remember what. I left the ship feeling like a fool.
But the next morning, Chris Brogan redeemed me. He had written a blog post about what I did, drawing positive lessons from my onstage struggle. People at the conference were supportive, and I felt as if I had been pulled out of a toilet bowl, rinsed clean, towel-dried, and sent off on my way.
Meanwhile, in Ottawa, someone I didn't know was reading that post. And I ended up being very good friends with Susan Murphy.
As the 2011 PAB conference ends, I am thinking about that night. Because last night, there was another open mic. This time, it was in Ottawa. And I was … leading it? I didn't realize this would be the outcome of that debut.
So with the help of my friend Tom, we had put together the open mic gear. And I figured I would start the show with one of my favorite songs, and the first song I had ever performed in public. Danny Michel's "The Invisible Man." That song starts, and then there's a chorus…. "I'm the invisible maaaaa–" What the FUCK?! Somebody's singing. And it's not me.
It's Valerie Hunter. Someone I met for 30 seconds during the conference. I had a backup singer. Jesus.
She told me this morning that that was the first time she'd ever sung in front of people. Wheels within wheels.
I sang a song a long time ago, that led me to a failure onstage that turned into a redemption and made me a friend and led me to lead the singing and made someone else sing for the first time and now I'm writing this. What's next? Damned if I know. But isn't it fun that the wheel is spinning.
Here's what the song  REALLY sounds like:

UPDATE 2: BBC Newcastle heard about this … from Lindisfarne, apparently (?!) and asked Alan Neal and I to head into the studio to have a chat. My a cappella rendition of the first verse of Winter Song didn't make it into the final piece. Too bad, so sad. But here's what we chatted about:
Audio clip: Adobe Flash Player (version 9 or above) is required to play this audio clip. Download the latest version here. You also need to have JavaScript enabled in your browser.
UPDATE: All in a Day host Alan Neal brought me, a couple of other song pluggers, and Rolf on to the show a few minutes ago, and we learned that there was a tie at the top: "Song for a Winter's Night" by Gordon Lightfoot (a worthy song for a December show):
Sarah Harmer will be singing that this Friday.
Meanwhile, some friends (or is that "friends") of Rolf Klausener ganged up and he will be performing "Buffalo" by Stump.
So… that's interesting. But just when I thought all was lost, Rolf announced that because he loves the Northern England folk-rock tradition so much… HE'S GOING TO DO "Winter Song" TOO! SQUEEEEEEEEEE! So it looks like Sarah Harmer won't be singing "Winter Song" by Lindisfarne on CBC's Share Central program this Friday.
But you know what — even if Rolf wasn't bending to my will, the important thing is this: Causeway is more than $2100 richer thanks to people reading this blog or my Twitter stream or getting involved in this fun however they did it. Yay!
A group led by folks from the Ottawa Jazz Festival have won with their choice of "Baby it's cold outside" by raising nearly $600 (I just assumed they won, but have been politely informed that the winner is not yet known) for the chosen charity of "All in a Day", Causeway Work Centre.
The good news is that this friendly competition has raised somewhere around $2000 for Causeway. And since you won't hear Sarah, or Rolf Klausener of The Acorn, singing my chosen song, I guess you'll have to make do with this. Alan Hull and Lindisfarne, if you're out there, this is the best I can do. And as for the rest of you: use the gifts you've been given to help others, at Causeway or elsewhere.
Merry Christmas.
Most people here know I'm a music lover. And this time of year, I start thinking of one of my favorite seasonal songs, a fairly obscure tune called "Winter Song" by a British folk-rock group called Lindisfarne.
I love Christmas music, but as an atheist, I always feel like just a bit uncomfortable singing about the Lord and Christ being born and the like.
But "Winter Song?" I can totally get behind it. The lyrics (hope you don't mind, Lindisfarne):
When winter's shadowy fingers First pursue you down the street
And your boots no longer lie About the cold around your feet
Do you spare a thought for summer whose passage is complete?
Whose memories lie in ruins And whose ruins lie in heat ?
When winter comes howling in
When the wind is singing strangely Blowing music through your head
And your rain splattered windows Make you decide to stay in bed
Do you spare a thought for the homeless tramp who wishes he was dead?
Or do you pull the bed-clothes higher Dream of summertime instead?
When winter comes howling in
The creeping cold has fingers That caress without permission
And mystic crystal snowdrops Only aggravate the condition
Do you spare one thought for the gypsy with no secure position?
Who's turned and spurned by village and town At the magistrate's decision?
When winter comes howling in
When the turkey's in the oven And the Christmas presents are bought
And Santa's in his module He's an American astronaut
Do you spare one thought for Jesus, who had nothing but his thoughts?
Who got busted just for talking And befriending the wrong sorts?
When winter comes howling in (twice)
Here's how they performed it in 1984 in Newcastle:

So here's the selfish (somewhat) part. "All in a Day," our local CBC Radio afternoon show is soliciting donations for an organization called the Causeway Work Centre. Causeway does great work, giving people with mental health issues or other difficulties opportunities to do work that's tailored to their ability. That gives them everything that work gives us all — skills, money, fulfilment, dignity… They change lives, for the better. Every day.
And the person who donates the most gets to get the amazing Sarah Harmer or Rolf Klausener do a cover song of their choice. Now, some people will try to get them to do something out of character — Black Sabbath, or Mel Tormé, or something. But I really want to hear their take on this song. And I'm willing to ask for your help to do it — and risk humiliation.
If I get this, I promise to record my own cover video version of the song and put it up on the site. But ONLY if I get this.
If you click on this link and donate, then tell All in a Day that you've done it, I have a chance of hearing this song covered. And most importantly, you help a worthy organization. Help a brother out, willya?
I have been spending a fair amount of time on music stuff recently. And part of that has been thinking about the famous / infamous / notorious debates over copyright, file sharing, remixing, mashing-up, etc.
A lot of it, to be frank, is tiresome. Someone on one side arguing that free is the only option, that everything should be free. People on the other side calling those people kreative-kommons-koolaid-drinking boobs and saying that any form of sharing music online is a sinkhole with no return and no possible way of compensating creators fairly.
And whether it's in the courts (as in Ireland recently) or on e-mail lists or in documentaries, the debate just doesn't seem to ever resolve.
But a TechCrunch story just now gave me an epiphany. The story deals with the fact that the production company that owns the rights to the film Downfall has started issuing takedown notices to people who have used the famous scene of Hitler losing his temper in parodic senses. People have done hundreds of remixes of the video, for everything from the Ottawa transit strike:
to Hitler not getting any more coffee:
to Hitler finding out he's on Santa's naughty list:
You get the point. There are TONS of these out there. Or there were, before Constantin Film started to get them pulled from YouTube.
But TechCrunch quotes the makers of Downfall as being huge fans of the parodies. Here's what Downfall writer and producer (and Constantin part-owner) Bernd Eichinger says:
I find those parodies tremendously amusing! Obviously, the film and this scene in particular is a real fire starter for people's imagination. What else can you hope for as a filmmaker? This is moviemaking heaven! My favorite one is when Hitler is having his tantrum over his losses in the real estate crisis. Hitler's real crisis at the time was also about a gigantic real estate loss: the loss of all those territories he had conquered fuelled by false credit and driven by avarice, megalomania and extreme ruthlessness. And then history's Down Jones came crushing down on him….I find this parody so funny because it's historically relevant.
And the film's director says:
Someone sends me the links every time there's a new one. I think I've seen about 145 of them! Of course, I have to put the sound down when I watch. Many times the lines are so funny, I laugh out loud, and I'm laughing about the scene that I staged myself! You couldn't get a better compliment as a director.
So here's why this debate never ends: because we're all human. And when the creators themselves are simultaneously enjoying the remix AND taking it down as a copyright violation, it's impossible not to recognize that not only are there "two sides" to this story, but that we human beings buy into both of them AT THE SAME TIME. It's almost like
negative capability in poetry
.
UPDATE:
David Newland
of the EXCELLENT
Roots Music Canada
site points to this Funny or Die video using the Downfall video to portray Hitler's reaction to the takedowns of … Downfall videos featuring Hitler's reaction… I'm gonna end up in a loop here. Just watch:
I'm doing some work on the music side of the world these days. So I get to not only geek out about music recreationally, but professionally! Whee.
So when I, a longtime Rush fan, heard a cover of Subdivisions on CBC Radio's Fresh Air recently, it caught my ear. My first stop was Google, of course, and I found this:
This is a guy named Jacob Moon, and with two guitars, a looping pedal, and a pocket audio recorder, created a pretty darn credible cover of a song I never would have thought of for a solo artist.
So why write about him here? Because of what this video did for him. So Moon is a Hamilton-based singer-songwriter who has put out seven CDs (or albums for those of my generation). But I'm not ashamed to say I had never heard of him. There's a world of people out there, and it's hard to get noticed.
But when Moon covered "Subdivisions", then recorded the video on that photogenic rooftop, it made its way to Rush themselves. I think you can guess that they didn't explode with outrage. Here's what Neil Peart told the Toronto Sun about the song.
"We all shared Jacob Moon's performance of Subdivisions quite a long time ago and sent it to each other, 'Hey have you seen this?' because it's such a beautiful cover. The imaginative way that he uses the little cassette player to get my voice in there. It's superb. And it is that kind of song. It's a singer-songwriter's song. I loved to see his version of it and I loved the idea that song has endured to his generation."
So not only did they like it. But they asked him to be one of the three artists asked to cover Rush songs at the Canadian Songwriters' Hall of Fame gala in Toronto.
So Jacob Moon has scored a giant coup. Because of his good work, he's likely gotten the biggest press he's ever gotten. But the questions are:
What are the opportunities?
What are the risks?
And how does Jacob maximize the one and minimize the other?
The quick answers, for me, are:
There are HUGE opportunities — at least in the world of solo singer-songwriter acts. Moon has a quite solid web site, which he's using to great effect. And he's continuing to get gigs supporting more established and famous singer-songwriters like Melissa McLelland and David Wilcox (the american one).
To me there are two big risks: first, that he gets stereotyped as the "rush cover guy"; second, that the inevitable dropoff of attention now that the gala's over and fades from recent memory will demotivate him. I think the first risk can be counteracted by getting something very NON-Subdivisions into circulation. IT won't / can't have the same impact, but it will be the best chance of non-American-Pieing himself (I always believe that hell for me would be to be reborn as Don McLean and have to sing that song EVERY night FOREVER).
The second risk is a tougher one, I think. Musicians live in an odd universe where they perform in front of (but apart from) crowds, but the hard part of the job is done alone, in a room, with a keyboard or a fretboard, and there's nobody to prop you up. So it's going to be important for him to manage his goals and his expectations for his music.
In the meantime, here's my lessons:
When serendipity strikes, RIDE that sucker like a horse heading for the finish line.
Sometimes nice guys do get a break.
Don't assume that the peak is the new normal.