Archive for the 'Public relations' Category
I was asked by the organizers of next week's Social Capital Conference to join organizer Lara Wellman on the local CTV morning show to talk about the conference, keying in on a tart little infographic they published recently: 10 Ways to Suck at Social Media (I've put the infographic at the end of the post, if you want to check it out).
The interview, done with cohost Jeff Hopper, reminded me that live TV interviews are a unique experience for even experienced interviewees. Cameras (in this case, one robotic and one human-operated), lights, a computer monitor behind us — distraction is easy and time is short. In this case, I think (THINK – always hard to KNOW) the interview went well, in great part because Jeff Hopper was already knowledgeable about social media, and because he had an obvious personal interest in the topic.
So here's my tip for today. When you're doing a live interview, either on TV or radio, KEEP TALKING. The host will find his or her way into your chatter to ask questions, get clarification, or take the interview in a new direction. What lies behind the dictum KEEP TALKING means you should be conversant enough with your topic to theoretically deliver a monologue for the length of the interview.
The easy way to KEEP TALKING is to have a set of key messages in your head and ceaselessly repeat them. This is not ideal. People know "key messages" when they hear them, thanks to politicians who seem to think we won't notice them robotically repeating them. Here's probably the most egregious example ever, courtesy of ex-Member of Parliament Peter Penashue:
The key here is to balance out your ability to KEEP TALKING with your ability to be a gracious part of a conversation. It's a skill that takes practice to develop.
I won't be talking about media training at Social Capital, but I'm happy to talk to you about it, or to meet you at the Social Capital conference, where I'll be doing a talk on "Why You Are Stupid." (pssst: The "You" in my title also includes me.) It's not too late to register and hear from some truly un-dumb people, including Gini Dietrich (Chicago-based owner of Arment Dietrich and co-author of Marketing in the Round), and Danny Brown (cofounder of ARCompany and author of the hot off the press book Influence Marketing) (affiliate links).
And if this is something you need heavy-duty help with, you might want to check out Brad Phillips, a New York-based media trainer, and his Mr. Media Training blog. He has tons of great tips, techniques and case studies that he updates pretty much daily on his site.
UPDATE: Here's the interview, as uploaded by CTV Ottawa Morning Live.
And here's the infographic:
Before I get into the blog post proper, a quick note: my heart goes out to all those suffering in Boston. If you would like to help those affected by the bombings, I might suggest The One Fund, which has been established by the Mayor of Boston and the Governor of Massachusetts.
All right. On to a crisis of a much less dire nature.
Last fall, Canada's Finance Minister Jim Flaherty held a media event at a bike shop here in Ottawa. Joe Mamma is a funky shop here in town, specializing in hipster fixies and cool cruiser bikes. In the event, Flaherty talked about some of the measures contained in his government's 2012 budget, highlighting a small business tax credit and the government's decision to hold the line on new taxes. The 2012 budget also elminated duties on miports of athletic equipment. Good news for an indie bike shop owner.
Fast-forward a few months: Same bike shop. Different MP from an opposition party. Different message.
In the 2013 budget, the government announced a number of new tariffs (which, they told media nad opposition, aren't taxes at all), some of which affected … you guessed it… bicycles. Now looks like those bikes that Jose Bray sells at Joe Mamma are going to be MORE expensive. So the NDP, Canada's official opposition party, held a news conference at Joe Mamma to criticize the 2013 budget.
I'm not going to get into the politics of this — beyond saying I like lower prices for bikes because I'm a cyclist.
But if you're doing any sort of public or media event, you may want to think about that event setting. I'm sure Flaherty's staff thought Joe Mamma was an ideal setting for an event. But they missed the contingency that budget changes that were likely being discussed as they held that event could irritate the owner to such an extent that he would hold another event to criticize them.
If you're the "backdrop" for an event, it might be a good idea to be very clear with the event organizer about that's happening. In one story talking about the duelling photo ops, shop owner Jose Bray talked about about not being aware of what was actually being announced by Flaherty, and then feeling blindsided by the new tariffs. Even if it's a cabinet minister, you have the right to ask exactly what they're announcing. They may tell you to pound sand and find another location. But that's the way things go sometimes.
And kudos to the NDP's staff, for making the opportunity happen by reaching out to him.
A bad event is like taking a photo in the middle of Times Square. A good event is like taking a studio portrait of someone. Your goal, whether you're the organizer or the "backdrop", is to control as many factors as possible to allow your messages to get out. The studio's lighting, props, and makeup are the same thing as the event's backdrop, spokespeople, and schedule. Make sure that you're making decisions that are designed to benefit you or your organization to the greatest extent possible.
I'm blogging today over at Punk Views on Social Media about the ethics, costs and value for not-for-profits of entering awards programs like this one, from PR News.
Head over there and join the conversation, whyncha?
One thing that really gets me going is conversation with smart people. I'm very lucky to know some that I get to see face to face, and then there are the people who I don't know personally but get to hear speak or converse with.
And tomorrow, I get to speak with Gini Dietrich, co-author with Geoff Livingston of Marketing in the Round as part of the FIR Book Club. If you're not familiar with FIR, it's "For Immediate Release." I do book reviews for that must-listen podcast, and I host these online talks as well.
Gini Dietrich is smart, funny, and prolific. She's the founding CEO of Arment Dietrich, a Chicago-based communications company that describes itself as a firm that started as "a very traditional public relations firm" and is now "a company that helps clients monitor and measure online efforts against business goals…providing an alternative to their traditional marketing efforts."
In addition to their many clients, Arment Dietrich is responsible for the cheeky blog Spin Sucks and the PR resource site Spin Sucks Pro. And Gini became a first-time author with the publication of Marketing in the Round, a highly useful book on integrated marketing and communications in a social media age.
I'm excited to have 60 minutes to talk with Gini about her book and the ideas she and Geoff brought to it, and to offer listeners the chance to join that conversation.
If you want a primer on the book, you could listen to my review of the book on the FIR site. Then, join us on Talkshoe as a listener or a caller at 2 Eastern time tomorrow, won't you?
There are as many different social media tools out there as you can imagine. If you don't believe me, check out the "conversation prism" that Brian Solis created:
Confused yet? Good. That's what keeps people like me in business!
When you're engaging with your audiences using one or more of these tools, one thing to keep in mind is the timeframe for your message. I was reminded of this recently when I was listening to a podcast (WTF with Marc Maron, if you must know). The podcast was great, but there was a sponsor who was pushing a  Christmas special. (I'm writing this in June).
Different social media have different shelf lives. Twitter is (arguably) ephemeral. It's here, then it's gone. Facebook pages, less so. Blogs, semi-permanent. Things like podcasts live on forever; despite the fact that my Stephen King podcast is currently on hiatus, I still see thousands of downloads each month.
So when you're working out strategies for social media, keep in mind that each tool will have its own sense of time. Why advertise for Mother's Day when people will still be hitting that note in November? Key your messages to take into account the shelf life of the medium.
(This is post number seven in an ongoing series of posts aimed at providing practical advice for small businesspeople in the areas of public relations, communications and social media. If you ever need help with your small business… why not get in touch?)
(PS: Sorry for the late post; I should have pre-written for the Friday, but I didn't, and I was driving to Boston yesterday. With a quick stop here.)
I was recording a podcast with Dennis Van Staalduinen and Mark Blevis when it happened — I had an idea.
The phrase "the tyranny of the app" seemed to come up out of nowhere as we talked about creativity and the way people learn.
It was a minor epiphany, or so it seemed to me at the time. And I do think it actually has a little impact, so I'm going to expand on it here.
The backstory: while I'm one of three boys in my family, I was fairly distant in age from my brother — six and 12 years. So in some ways I was an only child. And what did I REALLLY love when I was a kid? Lego (or Legos, as I referred to them then).
Back then (the 1970s), Lego blocks were … blocks. There was the occasional curved piece. But most of them were slaves to the 90 degree angle. Squares, rectangles. Flat ones for foundations, bricks for building, long ones that joined structures together or served as wings… When I got one of these: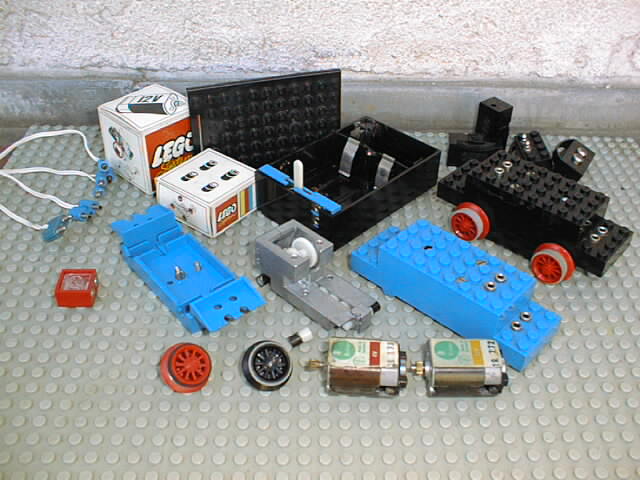 I was done. That was IT. The world had provided a great gift to me (or at least my parents had).
The point of Lego in those times was to build things. I can remember getting small kits of things that made model helicopters or the like. But most of the time, it was to create a microcosm. A world, a building, a place. And it came out of my brain.
As I aged, I grew out of playing with my Legos. And by the time I started to buy Lego for young people in my life, it had changed. The Bionicle. The Lord of the Rings sets. Harry Potter. Mindstorms.
And as I watched kids put the kits together, the idea wasn't to create a world, to create; it was to replicate the picture on the box.
What does this have to do with the "tyranny of the app?"
We have two ways of learning, two ways of interacting. We can create, or we can complete. We can follow a plan, or we can make a plan. We can build according to our own vision and desire, or we can take the instructions we're given and complete them.
Either way, we make something. It's up to you to decide which way of making something is more significant, more important. Better.
Tomorrow, I'm going to talk about escaping the tyranny of the app.
Last week, I was challenged to write about the wisdom (or lack thereof) of people blocking or ignoring their online critics.
This week, I'm going to give you a few tips about how to deal with online criticisms of your business.
No business pleases everyone. And now, displeased customers can complain in public. Sometimes with lots of people watching. And when that happens, what do you do?!
Shockingly enough, many companies are choosing to ignore online complaints. Look at this blog post by Jay Baer, based on research published in September 2011. According to that research, less than a third of complaints on Twitter were responded to by the company being complained about.  According to Baer,
Brands must look at these new channels as the "social telephone" and ignoring these 140-character cries for help is a flawed decision."
There are a few options. First thing is to assess the validity of the complaint. If Jane Bloggs is saying you screwed up the delivery and the product was broken when it finally got delivered… is she right? If so, did you know about her dissatisfcation and attempt to make things right? You need to have as complete a picture of what happened as you can get, so you can know where you stand and decide on a response.
It might be that this person is not a customer at all. And that's good to know too. It might be rare, but some people do enjoy causing trouble by making up stories.
Assuming Jane Bloggs is real, then reach out using the same means she did to voice her complaint. Did she tweet it? Then @ her. Did she use Yelp? Then comment on her post, and try to engage her.
Use neutral language. Acknowledge her feelings. Show that you're listening. And try to move the discussion into a more private place, like email, or even better, the phone. Human contact trumps electronic contact when it comes to resolving conflict.
If you're able to mollify her and resolve the issues which got her mad, then thank her for being reasonable and promise to do better in the future. And do.
If you aren't, do your best, and explain why you can't help any more than you can.
I've adapted this chart from the US Air Force's chart of how they respond to bloggers. And thanks to Jeremiah Owyang, we've all had a chance to see that classic piece of work.
Don't ignore complaints. You're only hurting yourself.
I tend to end up volunteering for a lot of stuff. Part of it is because I have a hard time saying no to good causes, part of it because I enjoy doing the work, part of it because it makes me feel good to help, part of it because often it's friends asking, and part of it because I might learn something or hang out with cool people.
One of the things I think has been changed most fundamentally by social media is the relationship between not-for-profit organizations and people wishing to do good things for them.
Back in the day, charities and not-for-profits relied on long-term relationships with volunteers and donors. Every year, Jane Bloggs would "collect" for the Heart Foundation, the March of Dimes, or the Cancer Society (Of course, this still happens.) Every year, people would write cheques (as my parents still do, in memory of my brother) to the local children's hospital. Memorial donations.
And not-for-profits would have committees which would provide muscle and brainpower to organize events and fundraisers. Need a fashion show? A charity tea? Casino night? Strike a committee, likely with one or more of the same people who canvassed and knitted and hosted the dinner etc… and the event comes together.
I suspect that in many ways, there was even a parallel thing happening with genders. Men would join "service clubs" like Rotary, Kinsmen, and the like, and women would have parallel clubs (in Canada, the IODE or the Catholic Women's League).
But things are changing. Traditional service clubs are declining in popularity, as noted both by media and by club believers. But at the same time, there are good things happening too. And that's where social media comes in.
The ability for people to self-organize and act via social media is awe-inspiring. Let me give you a bunch of examples:
So what makes all this different? A few things:
People don't have the same sort of connection to the organization they're working on behalf of. 
I didn't know Cornerstone from a hole in the ground beforehand. I'm not a woman. I've never had to live in a shelter. I didn't know any of the staff or volunteers. I just got riled up by the fire. I don't think Hélène Campbell was involved in organ donation before she got sick. This sort of spontaneous engagement has good and bad implications. First, it can be an unexpected and serendipitous boon. Yay. Second, it can create unexpected work for charity staff or established volunteers. Not exactly Boo, but uh-oh.
Not-for-profits can sometimes do best by staying out of the way 
Organizations that aren't familiar with the ad-hoc, high-energy, short-term nature of these movements might stifle them with excessive bureaucracy, caution, or general wet-blanketing. That in no way means you let people run with a valuable brand. But you don't want to oversee and second-guess every decision.
Trying to court these folks into becoming longtime donors or volunteers may not work, or even backfire. 
The irony of these "flash-givers" is that while they may well believe in your cause, be willing to use social media, traditional media, public relations, and the like to  boost it, and make a big difference… it may be a one-night stand. They may feel little to no long-term interest in the organization, and may well be too busy or lack the long-term interest to come back to the organization, volunteer, join a board, etc.
Use this new energy to leverage your organization. 
In the media relations game,  "earned media" implies a third-party endorsement of an organization. Well, someone coming out of the blue to support your organization financially or with an event is an EXPLICIT endorsement of what you do. Use them (with their permission and support) to solidify or expand your organization's brand in the media, to increase your website's Google juice, or to further promote your own social media initiatives. All parties will benefit.
Smart charities and NFPs will figure out ways of encouraging and supporting these flash-gives. 
Just as you could stifle an initiative with too much "management", you can fan the flames with some judicious support. Ask how you can help. Have resources ready for them — logos, sound bites, etc. Be ready to include news about them in your organization's online presence. Work your existing networks to help the new folks achieve their goals, or at least offer to.
As the old ways of cultivating and managing volunteers become less effective, the NFP sector needs to find ways to harness this somewhat anarchic force. Those who do can reap great benefits.
___________________________________________
Some great resources for not-for-profits:
NOTE: This is post #1 in a weekly series I'm calling SMB101. SMB can stand for a few things: Social Media in Business, Small and Medium Business… it's up to you. Whatever the acronym, when you see it and the 101 logo at right, you'll know it's a short, (hopefully) pithy and useful post designed to help smaller organizations get a handle on social media.
The rollout of new social media tools seems neverending. And it pretty much is.Even a relatively short time ago, social media options seemed limited. Do a blog. Maybe a podcast.
Then social networks like Facebook became ubiquitous, the cost of creating video decreased, smartphones flooded the Western world, Twitter was everywhere, and the hits just kept on coming. If you don't feel overwhelmed yet, check out this listing of over 400 networks and sites.
It's natural to want to jump on board. Everybody talks about the advantages of being the first adopter, of being ahead of the curve. And there are advantages.
If you're working for or own a business that has a communications, public relations, or social media team, you have the relative luxury of relying on them to lead the adoption of new media tools. Alternatively, larger businesses or not-for-profits might have a PR, advertising, or social media agency on retainer to be the leader. Even having a community manager or dedicated social media person is great.
But if you're a small business with limited time to "do" social media, it might be wise for you to resist the temptation to jump on every bandwagon you see someone else riding on. Why? I'll give you a number of reasons:
Tools aren't strategies. If you jump from tool to tool, you increase the risk of forgetting WHY you're doing social media in the first place. Social media should be like every other part of your business —

informed by a solid strategy

. It's a powerful form of communications and public relations. And that power can translate into greatness, or awfulness.
If you're a small business, you need to budget your time carefully. And each tool has a learning curve. Better to do three things well than 10 things poorly.
There's no guarantee that the latest new gadget, site, utility, etc. will be around for long. Remember Google Wave? Exactly.
There's no guarantee your audience is looking for you on a given tool, or that they're even there. A furniture store near me prominently displays a LinkedIn logo. Why?
If you're the sort of person who loves to know about new things, that's great. Play with shiny toys on your own time and in your own spaces. But don't experiment with them for your business on your business's site and on your business's time. Your time is too precious to be spent on efforts that aren't well-thought-out and supportive of your business goals.
If your small business needs some help choosing from the nearly infinite set of social media options, get in touch. I'd be happy to help. I love finding ways of helping small business that are affordable and effective for you and profitable and rewarding for me. 

This story is getting a lot of attention, at least in Ottawa and Canadian political circles today. I encourage you to read the whole thing, including the online version.
But here's a précis. Tom Spears is the science writer for my local broadsheet, the Ottawa Citizen. In March, he saw a news story that suggested NASA was flying research planes into snowstorms near Lake Simcoe, and that our own National Research Council might be involved.
You'd think this would be a good news story, right? Back in my time in university media relations, this sort of story was our bread and butter. But you'd be wrong. In some quarters, it feels like an annoyance that must be smothered under a pile of wet wool blankets.
As Spears recounts, his inquiry generated a 52-page trail of e-mails (which he obtained using an access-to-information request) among 11 people. At the end, Spears received an e-mail message that actually doesn't mention snow, but explains where on the NRC plane the radar devices were located. Here's the story that resulted.
I've embedded the whole sordid tale, but if you want to see his question and the eventual answer, here it is: 
The whole chain is in this Scribd document: A simple question, a blizzard of bureaucracy

Spears has chronicled (and I've chronicled his chronicles at least once) the misadventures of Canadian government communicators in the past. He's talked about how government communicators wouldn't take media calls for FIVE HOURS after a major earthquake that affected Canada's capital city, and how they issued a media advisory for a briefing 25 minutes after the briefing began.
So what's going on here?
Some bloggers are fulminating about the culture of top-down control that they argue has created a culture of paranoia within the public service. Spears's fellow Citizen writer Dan Gardner has related this case to his ideas around open and closed government. I think there's likely something to that.
I think there's also a level of fear and loathing in government around getting something "wrong", about making a "mistake." In university media relations, the fact that our faculty had academic freedom insulated us. If the expert we found for a journalist said something outrageous, we wouldn't get in trouble. If someone at the NRC said something untoward, there would be much kerfuffling, as can be seen by the comments in the Scribd doc around the omission of the Canadian Space Agency. So you copy the world on e-mails. You ensure that the higher-ups and the highest-ups sign off on everything. 
There's also the tradition that ministers speak for departments and that public servants do not. While in the past that hasn't prevented scientists within the public service from speaking about their work, there have been rumblings that this is no longer the case. One of the  most prominent public calls for change came from the Canadian Science Writers Association during the last election campaign.
But I also wonder if, for the political masters who set policy for departments and agencies, if there's no upside from showing what government does RIGHT. It may be that there's a spoken or unspoken belief that showing good stuff the government's doing might lead people to think government agencies are valuable and/or worth preserving, which would fly in the face of our current government's budgetary direction. If your ideology tells you that small government is the way to go, why show off success stories?
I suppose it's not surprising to me that as I read this, I felt as much sympathy for the government communicators as I did for Tom Spears. They are likely as frustrated by the process as he was. Certainly, I noticed one of my Facebook  friends who is a government communicator wincing about the story.And my recent quest to find out information about the government using social media to monitor conversations about the seal hunt led to a similarly unsatisfying response e-mail from a communications officer, several DAYS later.
The saddest part of the email trail comes when the communicators begin to talk about a media visit to the facility next summer. Yes, let's invite the reporter we just annoyed and treated poorly to come to look at our snowstorm research plane. In the summer. When it's 40 with the humidex, and the last thing anyone want to think about is snowstorms, and the last story that an editor will accept is a story about snowstorms.
By my count of positions in the government's electronic directory, there are more than 40 people working in communications at the NRC. I'd bet that if you set those folks free, told them to court people like Tom Spears — not with boozy lunches or junkets, but with really good stories — and make good news happen, they could and would. We did that when I was working in the university sector. It worked. Who woulda thought that if you give journalists good story ideas, they'll pick 'em up and run with them?
It's unfortunate that ideology, bureaucracy, paranoia, or something is handcuffing our government and its employees and keeping them from doing so.
UPDATE: Science writer Margaret Munro files this story for Postmedia about Environment Canada's insructions to its scientists attending a conference on polar science.  There appears to be some difference of opinion about the "instructions."
Mark Johnson, an Environment Canada spokesperson, says there is nothing unusual about the plan, which he describes as "standard practice" and consistent with the government's overall communication policy.

Others see it as the latest evidence of the warped culture of obsessive information control inside the Harper government.

"Until now such a crude heavy-handed approach to muzzle Canadian scientists, prior to a significant international Arctic science conference hosted by Canada, would have been unthinkable," says a senior scientist, who has worked for Environment Canada for decades. He asked not to be identified due to the possibility of repercussions from Ottawa.

"The memo is clearly designed to intimidate government scientists from Environment Canada," he says. "Why they would do such an unethical thing, I can't even begin to imagine, but it is enormously embarrassing to us in the international world of science."
UPDATE: April 24: A blog post by PostMedia's Mike deSouza quotes Environment Minister Peter Kent on his department's media management practice:
"There is nothing new in the email that was sent to attendees…It is established practice to coordinate media availability. In fact, many of our younger scientists seek advice from our departmental communications staff.  Where we run into problems is when journalists try to lead scientists away from science and into policy matters. When it comes to policy, ministers address those issues."
Kent was challenged in this open letter on April 4: