Archive for the 'Opinion/rant' Category
I'm blogging today over at Punk Views on Social Media about the ethics, costs and value for not-for-profits of entering awards programs like this one, from PR News.
Head over there and join the conversation, whyncha?
We all perform in our daily lives. We "play the part" of manager, or leader, or creator, or educator. But what do we bring to the performance? Something that happened on Saturday night got me pondering the nature of performance.
One of my hobbies is putting on house concerts. The short version of what this is: a musician comes to my house, then people come to hear him, her or them and pay them for the pleasure of listening. It's a well known way for folk and roots musicians to play. On Saturday night, we hosted David Newland, a friend and musician from Cobourg, Ontario. And as is fairly common, I played a couple of songs to open the evening.
Now, I am not a professional musician. I am an amateur. In as many senses of the word as you would like to apply. But be that as it may, I sing sometimes.
On Saturday, I was thinking about next weekend's Remembrance Day. My father was a veteran, and for the last several years sold poppies in Cape Breton on behalf of the local Legion branch. And for about 12 years, I was a member of a marching band that played many Remembrance Day ceremonies. The music of the wars, from marches to Vera Lynn, is still in my head. And my dad died in August, so he is very much on my mind.
So I decided to play a song that I heard on many Remembrance Days on CBC Radio shows, hosted by the legendary Max Ferguson. "The band played Waltzing Matilda" is the story of a young rambler in Australia who goes to Gallipoli in the First World War and suffers a terrible injury. It's a beautiful, but a sad song, written by a great Australian named Eric Bogle.

Something happened during the performance. I wasn't quite aware of it, because for most of it, my eyes were closed. But when I finished, I saw that one person was crying, and afterward, someone told me that it had been the highlight of the evening.
So what did I learn from this? A few things:
Emotion and passion are good things, not bad. I think the reason that song affected people as it did was because of the emotion I was feeling when I sang it. If you can't bring emotion to your performance — whether it's a song on a stage, a speech, or a presentation at a meeting, you can't affect people. Don't be afraid to bring the personal out.
There was a time in my life when I kept a lot of important things submerged deep. But one thing I've learned through things like this, or through speaking at TedX Ottawa a few years ago, is that people want to learn what makes people tick. They don't want glib. They don't want superficial. If you give them more, they'll take it.
"Performing" with these things in mind is hard, it's draining, and it's uncomfortable. I don't yet know how to deliver at will a musical — or even a spoken — performance that is grounded in emotion. More often, the balance tips to the head and away from the heart.
And I learned, one more time, that I miss my dad.
The next time you have a public performance to do — musical, spoken, or otherwise — don't just do it from your head. Do it from your heart. Don't abandon logic, but find the emotional core of what you have to say and say it with passion. You'll thank yourself. And your audience will too.
There was more than a bit of wailing and gnashing of teeth here in Ottawa last week.
The local children's hospital, CHEO, and the Ottawa Hospital, were running a hospital lottery with a ticket deadline of midnight, Friday, June 22. And apparently, sales weren't going well.
There were stories all last week in local media about how only about two-thirds of the "We all win"  tickets (which cost $100) have been sold, and that this might reduce the money funding research at the CHEO Research Institute and the Ottawa Hospital Research Institute.
Then, on Sunday, we heard that disaster had been averted. The Ottawa Citizen reported that the lottery sold a total of 46,000 tickets. This was enough to allow the hospitals to break even and provide up to $500,000 in research funding, a drop from last year's $900,000.
Hospital lotteries seem to have proliferated in Canada in recent years. According to the Dream Lottery site, a catalog of Canada's charity lotteries, there are 15 in Ontario, and by my count of their listings, there are 45 across the country.
I've had a few health-care challenges, and I'm now of an age where I see friends experiencing all sorts of health issues. So I like hospitals and I like research. But is this the best way to fund research activities at hospitals?
Let's take a quick and dirty look at the numbers. (By the way, I asked the hospitals and the foundations to contribute to this post on Friday, but have heard nothing from them.)
The lottery sold 46,000 tickets. Let's assume that everybody bought single tickets, although some might have bought three at a time for a $50 discount.
46,000 tickets sold at $100 =
$4,600,000
The grand prize =
$1,500,000
Second prize =
$ 340,000
Car prizes =
$ 200,562
Vacation prizes =
$ 199,100
Gift cards =
$ 160,000
Revenue – prizes =
$1,501,238
Research funding =
$ 500,000
??? (My suspicion is that there
would be marketing, administration,
legal, insurance, accounting and
other expenses involved in this,
and possibly other expenses.) =
$1,001,238
Some notes on the assumptions I make here. I have maxmized the revenue generated. I have also used the face value of prizes. I suspect that the prizes are provided at lower than face value.
At first glance, it seems like there's a lot of money being spent to administer a $4M program, and that something with a budget of $4 million is raising only $500,000 for the stated purpose.
Should hospital foundations be spending money to heavily market high-end lotteries which could be susceptible to local economic conditions (in Ottawa's case, there are thousands of public servants who face uncertain futures after budget cuts)? And is it worth it for a chunk of their research funding pie that in the case of CHEO is less than 13% and only 5% for the OHRI?
There's a social implication here, too. I hate to use the word "should" again, but should people have to be bribed with the chance of winning something to donate to these causes? Look at the headlines of what CHEO researchers did just last year:
A potential treatment for Spinal Muscular Atrophy
A way of using sugar water to reduce pain in infants
A treatment for osteogenesis imperfecta
At the OHRI:
New diagnostic tools for thrombosis, or blood clots.
New, earlier ways of diagnosing Parkinson's disease.
These things benefit society. I want to support that, and I don't need the prospect of a new car or a house to make me. So I just
made a donation to the CHEO Research Institute
. 
Do you have money that you can donate  to a worthy cause? Just do it. Don't wait for the lottery.
And if you are a worthy cause, perhaps you should be telling people your story more effectively, rather than feeding into the same bonanza-of-prizes mentality that casinos use.
The world was abuzz this week with the story of Karen Klein, a woman from upstate New York who was taunted mercilessly while working as a school bus monitor. As is so often the case, the taunters were not only mean and vile, but stupid enough to record their actions. If you haven't seen this, you may or may not want to expose yourself to the 10 minutes of evil vapidity.
The video, as is the cliché, went viral. Millions of views. Then a guy in Toronto named Max Sidorov was touched by the video. He set up a campaign on Indiegogo to give her a vacation. He set a goal of $5,000, saying "There's even a point in the video where one of the kids touches Karen's arm in an attempt to make fun of her. I'm not sure why these kids would want to bully a senior citizen to tears, but I feel we should do something, or at least try. She doesn't earn nearly enough ($15,506) to deal with some of the trash she is surrounded by. Lets give her something she will never forget, a vacation of a lifetime!" 
Then Sidorov's campaign went viral too — in spades. In a matter of days, the campaign raised more than $545,000.
All of this is heartwarming. This is a 68-year-old woman who was treated more than shabbily, and it's lovely to think that she's going to be helped by this.
But let's be honest here. Does Karen Klein need a half-million nest egg? Does the pain or embarrassment she suffered warrant a half-million payday?
Let's take another example — Caine's Arcade. The release of a short film about Caine's Arcade led to a college fund of more than $200,000 and a matching fund to help other kids as creative and deserving as Caine.
There's no doubt that these stories are inspiring. But I have this feeling that even the desire to good using the tools of social media can go too far. In themselves, the 25,000 donors to the Klein campaign each did an undeniably good thing. But is the best use of the $545,000 and counting that has been raised to simply go to Ms. Klein?
The other side of this is the response by viewers to reach out to the school or the school district.
The school district website has a message which reads in part:
"The behaviors displayed on this video are not representative of all Greece Central students and this is certainly not what we would like our students to be known for. We have worked very hard to educate students on the damaging impact of bullying and will continue to do so.
We have received thousands of phone calls and emails from people across the country wanting to convey their thoughts. People are outraged by what has happened and they feel the students should be punished. While we agree that discipline is warranted, we cannot condone the kind of vigilante justice some people are calling for. This is just another form of bullying and cannot be tolerated. 
We all need to take a step back and look at how we treat each other. It is our job as educators and parents to teach children and lead by example. We encourage parents to use this as a springboard to begin a dialogue with their children about bullying, respect and consequences. As a school community, we will continue to take the lead in bullying education and we encourage all students and employees subjected to bullying and harassment to report it as soon as it occurs and to take a stand if they are witness to bullying in their lives." 
I can only imagine the sheer volume of contacts. How could a small upstate New York school or district reasonably handle this level of outrage and demand for response? And what would my angry e-mail add to the situtation?
I don't really have any answers here; I'm just trying to think through how a bad thing can, through social media, lead to a good thing and then, again through social media, perhaps the good thing becomes too much of a good thing.
What do you think?
It gave me great pleasure — and more than a little nervousness — to have my presentation idea accepted by Mark and Bob for the final PAB conference in Ottawa.
I wrote a bit about the conference earlier. But here's an edited version of my presentation from PAB, which was an attempt to argue that bloggers and content creators could steal a technique and a principle or two from more traditional forms of content creation (like… journalism). Hope you like it. And feel free to argue with me.
I spent the weekend at a conference. No big deal there. We all do.
But this was the final PAB conference, and like most things related to this event, it turned out to be a big deal.
The back story:
Seven years ago, Mark Blevis and Bob Goyetche were fledgling podcasters, and with inspiration provided by Tod Maffin, among others, they created "Podcasters Across Borders", a conference that took place in Kingston, ON. It was a great success. It eventually went from its original title to PAB, and moved from Kingston to Ottawa, where Mark (and I, for that matter) live.
I first attended in 2008, and I have been to four PABs. And this last weekend, they closed out their run with PAB 2012 at the wonderful National Arts Centre.
Why should you care about this? After all, you weren't there. And the conference is gone. Who cares, right?
You should care because PAB was a wonderful case study of the power of community to form, grow, and thrive thanks to social media.
PABsters are a diverse lot. Paramedics, hardware guys, musicians, academics, entrepreneurs, public servants, car dealers, photographers, lawyers, editors, students, teachers… On the surface, there's no commonality. So what's to tie them together? How could the bonds formed there become so deep that copious tears are shed at each departure?
In a word, geekery. Everybody who attended a PAB was some kind of a geek. I'm a communications geek (and a guitar geek). Alexa is a food geek. Dude is a beatnik geek. I could go on through the list of people who have attended or presented, and point out the precise geekiness exhibited by everyone there. And for all of them, all of us, the geeking becamse the way of bonding — that I could talk to one person about vintage film cameras and another about the subtleties of Japanese culture and another about which hot restaurants were must-visits before they left Ottawa and another about the future of education as affected by social media turned me on. It indulged my terminal curiosity.
And PAB offers each and every one of its members a safe space to let their geek flag fly. The Saturday night open-mic allowed one branding consultant to let his Axl Rose-esque vocal style out to play. Anthony Marco brought the room to  a standstill with his version of Tom Waits's "Jersey Girl." And while the musicianship and vocals were far from world-class, the enthusiasm and love in the room were evident.
The shared understanding that brought the PAB community together also led to some tremendous presentations over the years, either full-length or the five-minute "Jolts" that Mark and Bob introduced a few years in. I presented this year, and found myself bedevilled by nerves that I rarely feel. Why? Because I knew just how high the standard was, and how much I wanted to meet it. Later, people like Sue Murphy shared that they felt the same way.
These social media tools we all use to either create or consume content are empty tools if they don't facilitate some sort of human contact — either human contact online, or human contact face to face.
While Mark and Bob have chosen to fold up the PAB tent, I suspect that the strong, loving community they've created and that I'm so proud to be part of will refuse to let the event be forgotten. Remember, if you hear about a PAB 2013, I predicted it.
And to Mark and Bob: thanks, and congratulations. You have done a great thing.
PAB2012 on Flickr
Audio of the infamous 2012 open mic, courtesy Shane Birley.
Yesterday I posted about the idea that we can get hemmed in by structures. We can work within a structure to replicate things, and do it really well, but that's not the same as making our own rules.
One of the things that I really find inspiring about Twitter is just what frustrated me about it when I first joined Twitter (in February 2007, according to this website). I didn't know what to do with it. I'm not sure how I heard about it. And I joined because I find the best way of learning about something is to get on board and start from the inside.
I couldn't see what Twitter was for. And then, I started to see tweets from Chris Brogan. Rather than statements like "This soup at restaurant X is AMAZING", he was throwing out questions on Twitter that seemed like Zen koans. They seemed designed to provoke you to think. And I liked that. That was enough to engage me with the idea of Twitter. (Ironically enough, as I was writing this post, Brogan was writing about a sort of "Twitter fast" he did.)
But what frustrated me about Twitter was that my thought processes were based on the blogging model, which was based on the radio and magazine model that I was familiar with from decades of doing it. I was forced to move away from a format I was comfortable in. I needed to make new understandings for that new format. And that was good for me. I found value in Twitter.
When I tried Empire Avenue, I found a highly mechanized system that seemed to be the social media version of Farmville or Mafia Wars. While some people seem absolutely focused on maximizing their "share value" on that platform, I found zero reason to devote time or energy to it. (To the point that I don't want to even give it the linklove.)
Here's another example, and yes, it's about Lego. When I was teaching this winter, a student told me about her son's use of Lego. Remember those kits that I criticized last time? Well, this kid was taking his Lego kits and making stop-motion animation with them. Turns out, there's tons of this stuff online. Some of it's hilarious!
Consciously or unconsciously, he took a construction toy which went together one way, and used it to create something much more random and anarchic. He escaped the tyranny of the app.
Escaping the "app" is not getting rid of your smartphone. It's about resisting the tendency to follow patterns.
Don't let your tools define how you use them.
Re-examine your routines.
Best practices are one thing. But don't fall victim to being limited by them.
Here's one I have trouble with: recognize that you WILL fall back into the comfortable patterns, that routine will take over. Acknowledge that an attempt to change something has broken down… then do something about it.
Creativity is a joy and a treasure. Use it. Don't let the routines govern you.
I was recording a podcast with Dennis Van Staalduinen and Mark Blevis when it happened — I had an idea.
The phrase "the tyranny of the app" seemed to come up out of nowhere as we talked about creativity and the way people learn.
It was a minor epiphany, or so it seemed to me at the time. And I do think it actually has a little impact, so I'm going to expand on it here.
The backstory: while I'm one of three boys in my family, I was fairly distant in age from my brother — six and 12 years. So in some ways I was an only child. And what did I REALLLY love when I was a kid? Lego (or Legos, as I referred to them then).
Back then (the 1970s), Lego blocks were … blocks. There was the occasional curved piece. But most of them were slaves to the 90 degree angle. Squares, rectangles. Flat ones for foundations, bricks for building, long ones that joined structures together or served as wings… When I got one of these: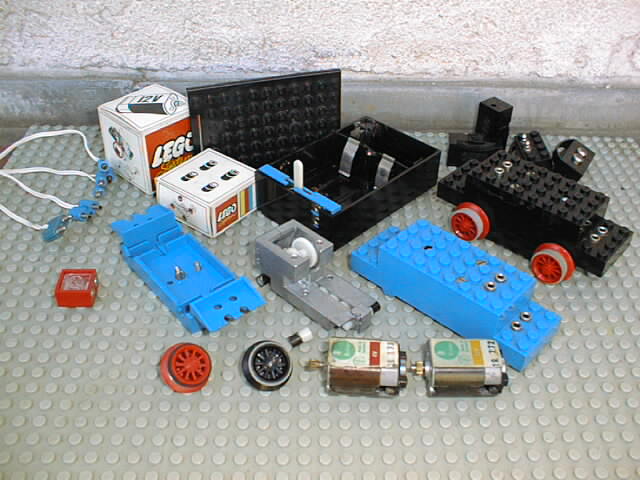 I was done. That was IT. The world had provided a great gift to me (or at least my parents had).
The point of Lego in those times was to build things. I can remember getting small kits of things that made model helicopters or the like. But most of the time, it was to create a microcosm. A world, a building, a place. And it came out of my brain.
As I aged, I grew out of playing with my Legos. And by the time I started to buy Lego for young people in my life, it had changed. The Bionicle. The Lord of the Rings sets. Harry Potter. Mindstorms.
And as I watched kids put the kits together, the idea wasn't to create a world, to create; it was to replicate the picture on the box.
What does this have to do with the "tyranny of the app?"
We have two ways of learning, two ways of interacting. We can create, or we can complete. We can follow a plan, or we can make a plan. We can build according to our own vision and desire, or we can take the instructions we're given and complete them.
Either way, we make something. It's up to you to decide which way of making something is more significant, more important. Better.
Tomorrow, I'm going to talk about escaping the tyranny of the app.
I was unplugging a phone charger this morning, when I looked at the outlet. What did I see?
One of those. Except mine was full. Then I realized that most of my outlets, instead of just having two things plugged into them, had one of these plugged in, so I could plug SIX things into them. In some cases, one of those might be a power bar, meaning there might be 11 separate things going into that electrical outlet (by the way, did you know that the standard electrical outlet, with its three prongs, is called a NEMA 5? Specifically a NEMA 5-15R? Me either). And thankfully, the picture of a truly epic (and stupid) cable octopus is NOT taken in my house.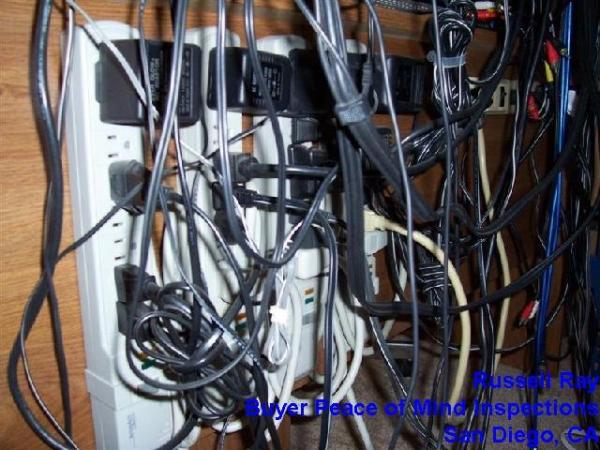 It made me think about two things. First, the houses we live in. We still build houses with the standard two-outlet (called a twin-duplex) configuration. Most new houses have more outlets than older houses. But they're still the same old outlets.
I think the difficulty with managing electrical outlets in older houses can tell us a lot about the change in the way we live.So we maximize their use for our computers, stereos, home theatres, routers, portable hard drives, telephone chargers, battery chargers, and on and on and on… If you live in an old house, you know just how hard it can be to manage electrical outlets. And that's especially important for folks like me, who spend a lot of their work time in their house. My home office has a lot of devices plugged in. My computer might draw 50 watts, not like a clothes dryer or my electric oven. But put all those little drains together, and we're using lots of power.
The second thing it made me think of was my brain. Huh? Think of the devices in your life. The phone, the tablet, the laptop, the digital camera the desktop, the TV, the iPod, the stereo, the clock radio, the landline, the office phone… Think of all the things we plug in, and that we can't imagine living without. Each of those is as much a drain on our consciousness as their corded counterpart on is on our electrical service.
And with each new media creation — radio, gramophone, telephone, mobile phone, television, internet — we've increased the demand in our brain for places to plug all this stuff in. But we still have two eyes, and two ears, just like those old outlets. How much power drain do we experience from the multitasking?
I'm not saying UNPLUG EVERYTHING! here. Most of the time, I love the things that all this connectivity has allowed us to do. Social media, increased opportunities for individuals and businesses to communicate with each other and share information and content: that is good, and powerful .
But it's worth thinking about a bit more conscious management of the cables and plugs that bind our devices to our houses — and our brain.
It seems like just a year or so ago that Netflix found itself in the New York Times apologizing for hiring actors to pretend to be excited about the company entering the Canadian market. And didn't the US Federal Emergency Management agency have to apologize for pretending that its own employees were journalists, when it faked a news conference? Oh yeah, they did!
But hey, those guys are amateurs. They are certainly not "Canada's home for hard news and straight talk", a network that is "unwavering in their commitment to uncover the real stories impacting the lives of everyday working people and their families".
So when Sun News wants to cover a citizenship ceremony, what ends up happening? The minister's office sends down the orders to put together a ceremony at the Sun studios (not where Elvis and Jerry Lee hung out, sadly), and when they have trouble putting together enough warm bodies to make the ceremony look legit… the ceremony gets faked, with public servants posing as new Canadians. Here's the video, in all its cringeworthy glory. Keep in mind as you watch it, that six of these people are not "new Canadians." They are federal employees.
I'm guessing the two small people on the end aren't the public servants. They appear to be children, although in this topsy-turvy world who can tell? Here's the story as reported in the Globe and Mail, obtained through Access to Information requests by the Canadian Press.
The story's money quote:
When a bureaucrat sent Sun News a list of possible citizenship ceremonies to cover in Ontario, a network employee suggested another scenario. "Let's do it. We can fake the Oath," reads an email from a sunmedia.ca email address, the name blacked out of the document.
I suppose I should draw the lessons, although I can't imagine I have to:
Journalists shouldn't create pseudo events or cover them as real events.
Public servants should have more integrity.
Hard news and straight talk don't mix well with "Fake the Oath."
Let's all be a bit better than this.
UPDATE:
The political appointee Candice Malcom appeared on Sun News today to apologize for the event. Sun News host Pat Bolland claimed that they knew nothing of the fakery. For what it's worth, I never would have suggested the strategy followed in the wake of this muffup. Here's the video:

UPDATE 2: Sun News Network's David Akin weighs in with his take on the event.