Archive for the 'strategy' Category
I've seen it. I've suffered from it. I'll bet many of you reading this have too. I call it… launchitis.
It's a terrible malady, suffered from by those who toil in the trenches of the social media salt mines. The symptoms include depression, burnout, hair loss (from people tearing it out by the roots), uncontrollable anger, and addiction to Dilbert cartoons.
Here's how a typical case of Launchitis usually goes:
an organization gets super-duper excited about some online social media tool or trend that involves interactivity — Foursquare, communities, bulletin boards, Facebook pages, augmented reality. Yay!
They task staff to put the project on the to-do list.
Staff get moving. Sometimes they hire consultants to help out.
The project creeps. Let's do THIS TOO! And this! And let's make it glow in the dark!
People start getting tired. Deadlines loom. Sometimes budgets start to get dicey.
The project launches with attendant hoopla. Ribbons are cut. News releases go out. Everyone congratulates each other, whether or not it was on time or on budget.
The landscape is then suffused with the gentle sound of crickets. Nobody posts in the community. Nobody joins the page. Those who do don't say much. Nobody checks in.
What's happened here?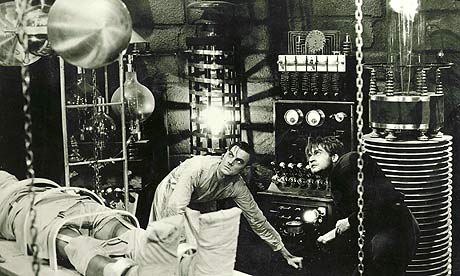 The organization forgot that it's not enough to launch. It's easy to believe that  all you have to do is build the tool and it will rise like Frankenstein's monster and live. But to keep on with that monstrous metaphor, Frankenstein didn't just assemble the parts — he added electricity. That belief is dangerous to the success of your projects.
If you're a communicator and you're tasked with a new project, do yourself — and your organization — a big favour. Write an element into the project charter, the project plan, the communications plan and any other document related to the project that identifies the resources that will be necessary to nurture the product through its early life. That might be a month or two, it might be a year; it might mean part of someone's job, or hiring a contractor to manage the product.
If it's blog-related or relies on written content, ensure part of the plan coming up to launch is pre-writing content that will either get finished and posted in the early days; if it's video-based, have some video ready. You get the idea.
And don't stop talking about it the whole way through the project. The best way to ensure that your project will survive the launch is to keep people focussed on the fact that the goal is not to LAUNCH something. It's to BUILD something. Social media sites should not be envisioned in Ray Kinsella mode, as in: "If you build it, they will come." It's more like George Burns mode: "I look to the future because that's where I'm going to spend the rest of my life."
You should also think about adding in measures in your evaluation plan (you HAVE one of those, RIGHT?) that make it more likely that you'll nurture the project post-launch.
Preventing the spread of launchitis is a great way to make the likelihood of your social media initiatives succeeding greater. Thinking past the launch is important. Don't miss out on the chance to scream, just like Dr. Frankenstein, "It's alive. It's ALIIIIVE. AAALIIIIIIIVE!!!"
And now for something mostly unrelated to launch-itis, a little LOVE-itis from the J. Geils Band:
A tip of the hat to Ottawa Citizen blogger David Reevely, who inspired the thinking behind this post.
I've been dithering on whether to write about the investiture of Toronto's new Mayor Rob Ford since I first heard that Don Cherry had been invited. You may recall that I covered Rob Ford earlier this year, when he didn't quite do an interview with CBC Radio's "As it Happens" on the day after his election.
For non-Canadian readers, Ford has styled himself as a plain-speaking council maverick who will stand up for the "little guy." Don Cherry is a former NHL coach who is now a commentator on Hockey Night in Canada, a Saturday-night sporting institution. He's also got a number of other gigs, from a radio commentator on sports radio networks to endorsements or ad appearances for things such as Cold-FX, the Quizno's restaurant chain, a series of hockey videos, and a chain of restaurants with the Don Cherry name over the door. He's a passionate supporter of Canada's military and a number of charities from organ donation to a hospice named after his late wife Rose, to whom he seemed to have been quite devoted.
Cherry is also a polarizing figure. He can seem belligerent, he doesn't seem to suffer fools gladly, and he would likely place himself pretty far on the right of the political spectrum. In a recent byelection, he recorded a robocall in support of Conservative candidate Julian Fantino.
And then he was asked to attend Rob Ford's investiture ceremony to place the chain of office around Ford's neck (it should be noted that in most cases, the city clerk does this duty). Here's what he said after he did the deed:
So. I was a little horrified at this speech. It seems to me that the investiture of a mayor and a council is a time for a little dignity and not for baiting of one's 'enemies' and crude insults.
And I wasn't alone. Spacing Toronto is holding a poll to design a "LEFT-WING PINKO" button, and others are busily printing t-shirts and other merchandise. Meanwhile, more right-wing media outlets are supporting Cherry as plain-spoken and just what was necessary. Joe O'Connor, for example, wrote in the National Post:
Be outraged over Cherry. Be embarrassed for Toronto. Or else be like this left wing, bike riding, print media wacko and lighten up. And remember this: we are talking about a 76-year-old Grampa.
But I think it's too easy to simply dismiss Ford — or Cherry, for that matter — as ignorant or stupid. Ford is sending messages here, and I think they're very specific. I think he's specifically targeting the "pinko" contingent and smacking them verbally.
Now here are the public relations / communications questions, and I don't know if I have answers or not:
What does it gain Ford to do this?
What are the circumstances – in politics or outside of them – when it's appropriate to antagonize or alienate publics?
I would REALLY appreciate some insights on this. I rarely find myself unable to answer my own questions.
Recently, a young writer won Canada's richest literary prize. Johanna Skibsrud won the 2010 Giller Prize for her novel The Sentimentalists.
She gave a moving acceptance speech, thanking her late father for information, and then started to prepare to rejoin her mother on a vacation in the Middle East. A great story! But  … that's where the trouble started.
Skibsrud's novel, like her previous volume of poetry, was published by Gaspereau Press, a small publisher based in Nova Scotia's Annapolis Valley. Gaspereau describes itself as part of: "a unique but traditional publishing model that brings printing and publishing together under one roof [whose] publishing program stresses the importance of quality across the entire process, from editorial and design to the manufacturing stage."
In realistic terms, that meant that The Sentimentalists could be produced at a maximum rate of 1,000 copies per week. That was fine for the roughly 800 copies it had sold since its release. This was not going to work for a Giller winner. For example, last year's winner The Bishop's Man sold about 75,000 copies. Even if you halved that number, Gaspereau was facing a bit of a problem. They had demand that was far outstripping supply. It could take the better part of a year to produce enough to meet the immediate demand, and this is the time of year — as Christmas shopping ramps up — when the vast majority of books are sold.
Immediately after the Giller Prize was announced, arts journalists started to focus on the supply issue. The
president of Canadian book megastore chain Indigo told the National Post
"We're working hard with Gaspereau to try and get some supply into the marketplace … We want to order thousands of copies. Whenever they come to market, I think they'll sell [but] I think the sales velocity opportunity is over the next six weeks in a material way."
In the same article, Gaspereau's co-owner said
Indigo
wasn't "a core client for us. They are someone we deal with because they are a factor in the industry, not because they're good customers. I don't want to complicate their lives, but I'm not going to change who we are and how we do business."
So let me lay out the issues that faced Gaspereau as I see them:
They have a principled commitment to quality production
They have a book in demand far beyond what they can supply (Amazon is selling ONE copy for nearly $900!)
That demand is partially time limited
Printing by someone else will likely reduce the quality of the physical book
Printing by someone else will generate additional revenue for the business
Printing by someone else will generate additional revenue for the author
Today, it appears that Gaspereau has found a solution. They've sold trade paperback rights to another publisher, Douglas & McIntyre. This means that their editions will still be the beautiful objects they are, but that many more people will be able to buy paper versions. There will be 30,000 copies available in about a week, and if they need more, they can do another 20,000 pretty easily. Douglas & McIntyre will also make e-reader editions available for all the popular e-readers. Previously, you could only buy it for Indigo's proprietary Kobo e-reader. There's a certain irony in a book published by a craftsmanlike press being primarily available for e-readers, I think.
All that is good news, and I wish Gaspereau and Ms. Skibsrud much more success in the future.
But the story of The Sentimentalists made me think. On one level, I admire Andrew Steeves and Gary Dunfeld of Gaspereau Press for their dedication. But I'm led to believe that most of the time, when a book is shortlisted for a Giller Prize, the publisher prepares for a possible win by making printing arrangements.
So perhaps what the folks at Gaspereau did was to neglect to prepare for success. It's easy to think about failure. It's easy to disaster plan (even though we often don't do it!). But do we prepare and plan for success in the same way? I think it's worth thinking about.
I recently had a conversation with a friend who's working in a role more focused on outreach than he's used to. He called me to ask about webinars. "Are they social media?" I started to think about that and delivered a fairly equivocal answer — yeah, webinars can be, but they aren't necessarily, depends on the interaction, blah de blah de blah.
But then I had a little epiphany. Something — a tactic — isn't "social media." The STRATEGY is social media. The tactic is just the action of the strategy.
It's not the webinar that is or isn't social. It's the thinking behind it. If the thinking is: "we will deliver information to you and you will listen," the tactics aren't social. If the thinking is, "we want to tell you what we're doing, and then we want you to tell us what you think, then we'll react…" the tactics are social.
Of course, where does this insight end? It ends at the listener. Because if the RECIPIENT of this messaging wants to take it and run with it, he or she will, and your strategy be damned.
Look at what just happened with Air Canada and the wheelchair incident. Air Canada likely believed that its dealings with the family of Tanner Bawn were private. If you're not aware, just Google "Tanner Bawn" and "wheelchair." But their belief was not shared by the family, who were well-versed in the social media world and already had followers and friends online. And Air Canada appear to have been totally insulated from the firestorm of criticism that was growing online.
So what did I learn from my friend's question? I learned to extend one of my favorite sayings from Terry Fallis — "a tactic is not a strategy" to "it's not the tactic that's social — it's the strategy."
I got a tweet today pointing me to the release of The Results Map. This is the brainchild of Caroline Keal
ey, CEO of Ottawa-based Ingenium Communications. I've known Caroline casually for a number of years, and she's always struck me as a really smart communicator.(If you needed proof: when she teaches, she enforces the smartphones-off rule.)
And the Results Map, from what I see, doesn't disappoint. The video tour they're offering on the site is a good introduction. And she's been smart enough to sponsor the "Strategy & Counsel" programming track at this weekend's IABC World Conference in Toronto. If getting a solid product in front of a few thousand communicators doesn't make for a good first few days, I don't know what would.
Kealey's been working on this idea for years, and the final product (if anything in this business is ever really final) uses the metaphor of the subway map to guide communicators through the process of developing, implementing, and evaluating communications programs.
I suspect this thing is going to take off in larger organizations. The one fly in the ointment? It is not cheap: $2800 CAD to get in, plus a $100/month sub for the online resources they're offering along with it. A lot of smaller organizations will likely gasp at that cost.
Caroline has been gracious enough to give me a quick peek under the hood, so I'm hoping to post again in a week or two with a full review of just what this tool is and whether it's as good as I'm guessing it will be.
It's not usual for people in the PR game to make the news when they take a new job. But there have been a couple of big changes in the last 48 hours here in Ottawa that have got a lot of chatter going in the blogosphere and the mainstream media.
City of Ottawa director of communications Denis Abbott was dismissed on Wednesday, and now it appears that there have been three hires made in the communications shop at the city.
Chris Day, a former reporter for CTV Ottawa who has been press secretary for Transport Minister John Baird for the last year or so, is going to become a manager (don't know the exact title) in the comms shop.
Meanwhile, Patrick Dare is leaving his job as a City Hall reporter with the Ottawa Citizen and Derek Puddicombe is doing the same at the Ottawa Sun. Both will be "communications strategists" for the city.
So why is this news? Part of it is timing — The sudden departure of Abbott in the wake of the city's auditor-general report focused attention of the media on communications. In addition, the city's had lots of issues to confront on the communications front — the green-bin introduction and its associated fee and dispute between the city and the contractor; the ongoing light-rail file; Lansdowne Live consultations and decisions; and the prosecution of Mayor Larry O'Brien's criminal charges. Then, when reporters "go over to the dark side", it further focuses interest.
For example, the hiring of CTV reporter Rosemary Thompson by the National Arts Centre didn't get this much attention, in my opinion.
But here's a couple of questions and issues this latest move by the city brings up.
Patrick Dare has a story in today's Ottawa Citizen about an $865K error in a contract between the city and a new arts venue in the east end. Puddicombe had a number of stories in the Sun yesterday. While I respect both men, at the very least the perception that one day they are the objective, impartial journalist; the next, in the employ of the organization they were covering yesterday, is not good.
While I don't believe this, the argument could be made that the city is squelching journalistic enterprise and investigation by bringing two experienced and savvy reporters into the fold. Some are already making that criticism.
Communications does not equal media relations. In a column written by Sun reporter Susan Sherring (who one assumes isn't gonna get hired tomorrow by the city), she runs the following quotes:
"I want the communications group focused on getting the city story out. I want people who can think about what the story is. We need to do a better job on the daily stuff that comes out of the media," said Kanellakos.
"We're bringing in people who know how to deal with the media," said College Coun. Rick Chiarelli.
Certainly, media relations is important. I've spent a long time doing it myself. But I hope that Dare, Puddicombe and Day are going to set and be judged on other goals than just "getting good ink" for the city. While it's understandable that Sue Sherring, a longtime print journalist, would see that as a key, and it's not surprising that the quotes she ran support that view, communications at the city could take a far broader view of the tools available.
For example:
I'm not trying to poke holes in the city's communications efforts. But if the new hires have been simply hired to stop the negative stories, not only will their considerable skill be squandered, but there will be missed opportunities for the city of Ottawa to communicate more directly and effectively with its citizens.
(DISCLOSURE: I've dealt with Dare, Puddicombe, and Day over the years. I'm not "friends" with them, but I would say I'm friendly with all three.)
UPDATED 2/12/09: According to the Sun and the City blog, the city has now apparently also hired reporter Caroline Barrière of French-language Ottawa newspaper Le Droit for its comms team. Her colleague Mario Boulianne wrote of her departure (translation mine):
I began working with Caroline Barrière more than 11 years ago. At that time, Caro was with the arts section. She stayed there for several years before accepting a position with the CIty of Ottawa. After that, she covered the health and education beats, as well as writing a weekly editorial. Yesterday, she turned an important page in her life, leaving Le Droit after 13 years.
We will miss her diligence and experience enormously, not even mentioning her pleasant disposition and her witty — sometimes sarcastic — remarks, which always made us laugh. And I know that her new employer will benefit from an employee who is dynamic, cheerful, and very competent.
Ciao,
Bob.
Given what's transpired with the Conference Board of Canada in the last couple of weeks, I might have recommended they not send the following e-mail to their list (please note: it was NOT spam – I'm on their mailing list):
| | |
| --- | --- |
| Forward this notice to an interested colleague: | |

I thought you would be interested in this information from the Conference Board of Canada.





Dear :

In the face of tough economic times, you need to spend smarter, not cut your marketing budget. The Conference Board of Canada can help you get more bang for your marketing buck with relevant research and presentations that address your key marketing challenges – marketing ROI, making better marketing decisions, customer segmentation …. We cover all the issues affecting marketers today.

Marketing Essentials Kit

1 report,1 e-Presentation and 1 Executive Action Report for $495

a value of $1,210 – a savings of $715).

Call 1-866-711-2262 and quote campaign code MARKET to recieve this offer.

Here's what you get in the Marketing Essentials Kit…..

Managing and Measuring Return on Marketing Investment ($700)
This 28-page report documents the research findings of The Conference Board's Working Group on Managing and Measuring Return on Marketing Investment (MROI). Its detailed statistical analysis supports the argument that an organization must not only create the right environment and have the appropriate skill sets available in order to make good progress with MROI. It also makes a strong case that long-term effort and commitment to these metrics are crucial for success, and that endurance wins out. Two case studies as well as numerous quotes from working group participants complete the report.

Using Customer Segmentation to Drive Improved Marketing Performance ($350)
Under the right conditions, customer segmentation can enable the more efficient and effective use of marketing and sales resources. Companies, however, rarely implement customer segmentation strategies. Getting segmentation right is challenging and requires superior strategy and planning, senior management buy-in, flawless market research, and focused implementation. This webcast presents rich case studies of best and worst practices from market leaders in a variety of industries. It will also give senior marketers the insights they need to 'operationalize' segmentation.

Precision Marketing: Five Ways to Make Better Marketing Investment Decisions ($160)
Faced with an onslaught of advertisements through not just traditional media but new media as well, customers have developed mechanisms that enable them to be highly selective of the messages they receive. Companies, accordingly, need to sharpen their efforts and work that much harder to reach their audiences. This 7-page Executive Action report presents five principles that can help companies make better marketing decisions by refocusing their concentration and perception of customer behavior — and in some ways redirecting their delivery investments.

Rethink, refresh and retool with Conference Board research at a special price – $495
To order the Marketing Essentials Kit at the special price of $495 (a savings of $715) or individual copies at the prices listed, please call 1-866-711-2262 or email publications@conferenceboard.ca and quote campaign code MARKET.


Sincerely,

Christina Marshall


P.S. Order before May 29 and receive a free copy of Customers and the Web: Web-Based Solutions That Improve Customer Acquisition, Loyalty, and Retention. This 64-page report (value of $875) describes five web-based marketing strategies that enable organizations to reach customers inexpensively using targeted messages. It also presents 10 best practice profiles of companies using them successfully
If you do not wish to receive any further notifications from
The Conference Board of Canada, please unsubscribe.
The Conference Board of Canada
255 Smyth Rd. K1H 8M7
Ciao.