Archive for the 'tips' Category
I was asked by the organizers of next week's Social Capital Conference to join organizer Lara Wellman on the local CTV morning show to talk about the conference, keying in on a tart little infographic they published recently: 10 Ways to Suck at Social Media (I've put the infographic at the end of the post, if you want to check it out).
The interview, done with cohost Jeff Hopper, reminded me that live TV interviews are a unique experience for even experienced interviewees. Cameras (in this case, one robotic and one human-operated), lights, a computer monitor behind us — distraction is easy and time is short. In this case, I think (THINK – always hard to KNOW) the interview went well, in great part because Jeff Hopper was already knowledgeable about social media, and because he had an obvious personal interest in the topic.
So here's my tip for today. When you're doing a live interview, either on TV or radio, KEEP TALKING. The host will find his or her way into your chatter to ask questions, get clarification, or take the interview in a new direction. What lies behind the dictum KEEP TALKING means you should be conversant enough with your topic to theoretically deliver a monologue for the length of the interview.
The easy way to KEEP TALKING is to have a set of key messages in your head and ceaselessly repeat them. This is not ideal. People know "key messages" when they hear them, thanks to politicians who seem to think we won't notice them robotically repeating them. Here's probably the most egregious example ever, courtesy of ex-Member of Parliament Peter Penashue:
The key here is to balance out your ability to KEEP TALKING with your ability to be a gracious part of a conversation. It's a skill that takes practice to develop.
I won't be talking about media training at Social Capital, but I'm happy to talk to you about it, or to meet you at the Social Capital conference, where I'll be doing a talk on "Why You Are Stupid." (pssst: The "You" in my title also includes me.) It's not too late to register and hear from some truly un-dumb people, including Gini Dietrich (Chicago-based owner of Arment Dietrich and co-author of Marketing in the Round), and Danny Brown (cofounder of ARCompany and author of the hot off the press book Influence Marketing) (affiliate links).
And if this is something you need heavy-duty help with, you might want to check out Brad Phillips, a New York-based media trainer, and his Mr. Media Training blog. He has tons of great tips, techniques and case studies that he updates pretty much daily on his site.
UPDATE: Here's the interview, as uploaded by CTV Ottawa Morning Live.
And here's the infographic:
Back in the day, it was easy for unethical businesses to pop up and disappear quite quickly. A number of years ago, I was interviewed by the local TV news when I discovered that a kiosk in a shopping mall was selling Livestrong wrist bands at a gross profit ($4 for bands purchased from the Livestrong Foundation for $1) and in contravention of the Livestrong Foundation's agreement.
When the kiosk owner was nowhere to be found in the mall, the staff claimed ignorance and referred the reporter to the owner, and … things just passed over. Flea markets or other public events were popular places for people to show up with fake merchandise, bootlegged music or video, and make a quick buck.
But with social media, things can't stay submerged for long, as brands like Urban Outfitters and Forever 21 have learned to their chagrin. Bot those large companies were discovered (sometimes repeatedly) to have been copying the designs of small designers without permission and selling those designs.
Now, there appears to be a local example.
Two Ottawa men created and began selling promotional t-shirts with the message "Don't F**K with the  Walrus" during the NHL playoffs. The phrase refers to Ottawa Senators coach Paul MacLean, who sports a rather outrageous moustache, and was referred to as a "bug-eyed fat walrus" by Montreal Canadiens player Brandon Prust.
The men, Jamie McLennan and Eric Chamois, made two shirts to wear to a playoff game, and found the market for them rabid and enthusiastic. They began making the shirts, selling them, and then donating $1 for each shirt sold to the Ottawa Senators Foundation.
But then they discovered that Ottawa Sports Experts stores were selling a design that was essentially identical to theirs.
Here's the two. On the left is the original design by J and L Ink; on the right, a photo of a Sports Experts store display from the Senstown blog.
Looks to me as if the design on the right has slight variation in the font used and has had the F**K removed (making it a bit nonsensical — don't moustache with the walrus?!) but is otherwise identical.
The creators of the original shirt are adamant that no deal is in place; I've reached out to Sports Experts for comment, but have heard nothing as yet.
Sports Experts has no active Twitter account, but they're receiving dozens of angry messages on their Facebook page (which is showing a last update a day before the angry messages started.) They haven't responded to any of those messages either. I'm at least the third blogger to find this, after the Senstown blog and the League of Ordinary Gentlemen.
What's the lesson here? At this point, it's that sometimes, even people with great ideas and generosity can do things that small-minded people then rip off. Or… if you are selling retail and you get an idea to use someone else's design… maybe you should think again. But let's wait and see. Maybe Sports Experts will make this good. Hey, FGL Sports, owners of Sports Experts and other brands — it's your move.
UPDATE: At about 10:50, Sports Experts posted a response on their Facebook page:
"Hello everyone, we are aware of your comments and concerns regarding the Walrus T-shirt. Details concerning the situation are presently being investigated and we will keep you updated as soon as we know more on what exactly has happened. Thank you very much for your understanding."  
Look forward to more information as it comes.
UPDATE, 2:45 pm: Sports Experts has an apology and explanation up on their Facebook page:
Dear concerned customers,
The sale of the Walrus t-shirt in the Ottawa Sports Experts stores was a local initiative and in no way was meant to harm the artist. The Sports Experts franchise owner sourced the T-shirts from an Ottawa supplier and asked to modify the design (removing the obscene language) not knowing that the supplier didn't own the rights to the graphic. As soon as he became aware of the problem, the store owner decided to stop selling the t-shirts and removed the unsold t-shirts from all locations. After discussing the situation with the local artist, the owner of the stores will donate all the sales revenues to the Sens Foundation. It was a misunderstanding between the artist, the supplier and the Sports Experts stores owner.
We, as a national team, are truly sorry for this mishap and look forward to your continued business.
Thank you for your understanding.
The Sports Experts team
I got into a bit of an online discussion the other day with a friend in Boston. He told me that "head shots are you at your most fake." He argued "…head shots suck. The reason why people don't have them is because we despise them with extreme prejudice, because we're uncomfortable with posed shots. I, personally, feel super douchey and always send one I know the requesting party will hate. They then usually find something on the Web and use that, which is what they should have done in the first place."
Now, my friend and I are both communicators, but in slightly different niches of that field. So while I respect his opinion, I have to disagree, and I thought I'd tell you why.
I think almost everybody would benefit from a well made headshot they could have in their back pocket. Why? For the same reason we have updated, cleanly laid-out, and spell-checked resumes. For the same reason that if we're doing an interview with a radio station and we muff a sentence, we ask to do it again.
When you are putting yourself out to an audience — by writing an op-ed piece, a blog post, speaking at a conference, or anything else that you can imagine, don't you want to put the best version of yourself out there visually? I think a good photo opens you up to the audience in question, allowing them to warm to your face before they hear you, read your words, or decide to come to your session.
Here are some thoughts from others that I respect, both behind the camera and in front of the camera:
Justin Van Leeuwen, Ottawa-based photographer:
Lots of people don't like having their image taken, my job is to catch them in a sincere moment that is also flattering and that they'll display to the world. My best images are made when we all forget the camera is there, when we're talking and having a great time but happen to be making images too. When I show them the back of my LCD or my iPad and they say "wow" that's when I know we got it.
Gini Dietrich, President, Arment Dietrich, Chicago:
I had them done because I needed high-res ones for media and other business opportunities. I had them redone when the book came out last year and you'll notice they're not traditional at all. One is of me hanging off a street light à la Laverne and Shirley. They show my personality and are professional enough to get by.
Bonnie Findley, Ottawa photographer:
These days I often capture subjects during an interview process. I think the intention of a photographer is everything. A professional wants to capture someone in their best light. Be that through lighting, a sincere moment or gesture that communicates who that person is, not just what they look like. We have mirrors to do that. Pro photographers reflect something more.
Christopher Barger, Senior Vice President, Global Programs at Voce Communications, Detroit
Of course I use headshots. It's the only way to ensure that the target is effectively terminated when I'm playing Call of Duty. Wait, what?
Ummm, we'll get back to Christopher.
Mélanie Provencher, Ottawa-based photographer:
The difference between a pro and an amateur is that there is a conversation that takes place before the picture is taken as to what the intention is. And then a pro takes the necessary measures to make the image look like what the client wants. Sometimes it looks 'fake' or for better use of words, 'planned'. But under certain circumstances that it what the client wants.
When a client says 'man I look good'. That's usually a good sign. A pro knows how to put their client at ease, guide them in their posture, and harness the light to make their client or subject looks their best.
Okay, Christopher's gonna try again:
…I'm a PR person and former speechwriter for IBM executives; I spent the first few years of my career arranging for and distributing headshots. I don't find them fake, I kind of think they're just an integral part of the publicity process.
You want something where they look relaxed, comfortable, being themselves. No artificial props, but something like what Gini did with the Simon and Garfunkel "hello lamppost, whatcha knowin'?" shot can work well. As long as the subject still looks relaxed — if it's the person awkwardly playing in a fountain or saying "how did Laverne and Shirley do it again?" during the shoot and it's obvious that they're trying to stage spontaneity, it won't work.
I think they are needed and can help to cement little bits and pieces of a person's image in people's heads. Look at [Scott] Monty's for Ford — the bow tie he wears has become part of his personal stamp. Gini's lamppost. Things that show a little bit of the person's personality or uniqueness can help to cement the brand they're already carving out.
Laura Byrne Paquet, author and freelance writer, Ottawa:
I needed a decent one to send to magazines that asked for them for their contributor pages. I used to send fuzzy holiday snaps and then end up embarrassed when everyone else on the page had a nice one! I was initially a little wary of Dale [Hogan, the photographer]'s suggestion that I have his wife do my hair and makeup before the shoot. He persuaded me and I'm glad he did. My hair had never looked that good EVER–not even in our wedding photos.
As for good vs. bad, I think the photographer taking the time to put the subject at ease makes a huge difference. We spent the whole afternoon in Dale's studio, and it shows. I normally hate having my photo taken, but by the time the shot I liked best was taken, I was having a blast.
I've consciously used the same headshot in all my social media pages for several years, in the hope that it will help people remember me. I actually have a horrible, horrible memory for faces–I can't tell you how many times I've sat next to someone at an annual conference, stuck out my hand and said, "Hi, I'm Laura," only to discover that I've travelled with them/spoken on a panel with them/interviewed them/sang karaoke with them at last year's conference/etc. So having a consistent photo of someone pop up in multiple places really helps me when I meet them in the "real world.
My only worry with my headshot is that I'll eventually have to stop using it and get a new one done. I once sat next to a famous writer at a conference and didn't recognize her, even though a huge photo of her was displayed at the entrance to the banquet room (she was the keynote speaker). She saw me blink and burst out laughing. "Yeah, I don't look anything like my publicity photo anymore," she said. "It was taken 15 years ago, but I like it!"
And now it's your turn. Point me to great or heinous headshots. Tell me what you think. And thanks to these busy folks for answering my questions.
Before I get into the blog post proper, a quick note: my heart goes out to all those suffering in Boston. If you would like to help those affected by the bombings, I might suggest The One Fund, which has been established by the Mayor of Boston and the Governor of Massachusetts.
All right. On to a crisis of a much less dire nature.
Last fall, Canada's Finance Minister Jim Flaherty held a media event at a bike shop here in Ottawa. Joe Mamma is a funky shop here in town, specializing in hipster fixies and cool cruiser bikes. In the event, Flaherty talked about some of the measures contained in his government's 2012 budget, highlighting a small business tax credit and the government's decision to hold the line on new taxes. The 2012 budget also elminated duties on miports of athletic equipment. Good news for an indie bike shop owner.
Fast-forward a few months: Same bike shop. Different MP from an opposition party. Different message.
In the 2013 budget, the government announced a number of new tariffs (which, they told media nad opposition, aren't taxes at all), some of which affected … you guessed it… bicycles. Now looks like those bikes that Jose Bray sells at Joe Mamma are going to be MORE expensive. So the NDP, Canada's official opposition party, held a news conference at Joe Mamma to criticize the 2013 budget.
I'm not going to get into the politics of this — beyond saying I like lower prices for bikes because I'm a cyclist.
But if you're doing any sort of public or media event, you may want to think about that event setting. I'm sure Flaherty's staff thought Joe Mamma was an ideal setting for an event. But they missed the contingency that budget changes that were likely being discussed as they held that event could irritate the owner to such an extent that he would hold another event to criticize them.
If you're the "backdrop" for an event, it might be a good idea to be very clear with the event organizer about that's happening. In one story talking about the duelling photo ops, shop owner Jose Bray talked about about not being aware of what was actually being announced by Flaherty, and then feeling blindsided by the new tariffs. Even if it's a cabinet minister, you have the right to ask exactly what they're announcing. They may tell you to pound sand and find another location. But that's the way things go sometimes.
And kudos to the NDP's staff, for making the opportunity happen by reaching out to him.
A bad event is like taking a photo in the middle of Times Square. A good event is like taking a studio portrait of someone. Your goal, whether you're the organizer or the "backdrop", is to control as many factors as possible to allow your messages to get out. The studio's lighting, props, and makeup are the same thing as the event's backdrop, spokespeople, and schedule. Make sure that you're making decisions that are designed to benefit you or your organization to the greatest extent possible.
Sadly, it appears I do, based on this CBC story and the underlying  research by HTTP  Archive. The average size of a webpage, based on the 10,000 most visited sites on the web? 1.3 megabytes!
That is simply too big.
800 megs of images? Really?
Whatever your role within an organization, you need to be a tireless advocate for websites that balance features, design, and SPEED. Don't bog your users down in endless (well, perceptually endless) waits for content to load. The chances of those users going somewhere else are just too high.
If you're feeling confused by this post, perhaps a visit to Now Make it Mobile, a site by Vancouver shop Mobify will help. They have tons of tips on making great mobile web sites.
We all perform in our daily lives. We "play the part" of manager, or leader, or creator, or educator. But what do we bring to the performance? Something that happened on Saturday night got me pondering the nature of performance.
One of my hobbies is putting on house concerts. The short version of what this is: a musician comes to my house, then people come to hear him, her or them and pay them for the pleasure of listening. It's a well known way for folk and roots musicians to play. On Saturday night, we hosted David Newland, a friend and musician from Cobourg, Ontario. And as is fairly common, I played a couple of songs to open the evening.
Now, I am not a professional musician. I am an amateur. In as many senses of the word as you would like to apply. But be that as it may, I sing sometimes.
On Saturday, I was thinking about next weekend's Remembrance Day. My father was a veteran, and for the last several years sold poppies in Cape Breton on behalf of the local Legion branch. And for about 12 years, I was a member of a marching band that played many Remembrance Day ceremonies. The music of the wars, from marches to Vera Lynn, is still in my head. And my dad died in August, so he is very much on my mind.
So I decided to play a song that I heard on many Remembrance Days on CBC Radio shows, hosted by the legendary Max Ferguson. "The band played Waltzing Matilda" is the story of a young rambler in Australia who goes to Gallipoli in the First World War and suffers a terrible injury. It's a beautiful, but a sad song, written by a great Australian named Eric Bogle.

Something happened during the performance. I wasn't quite aware of it, because for most of it, my eyes were closed. But when I finished, I saw that one person was crying, and afterward, someone told me that it had been the highlight of the evening.
So what did I learn from this? A few things:
Emotion and passion are good things, not bad. I think the reason that song affected people as it did was because of the emotion I was feeling when I sang it. If you can't bring emotion to your performance — whether it's a song on a stage, a speech, or a presentation at a meeting, you can't affect people. Don't be afraid to bring the personal out.
There was a time in my life when I kept a lot of important things submerged deep. But one thing I've learned through things like this, or through speaking at TedX Ottawa a few years ago, is that people want to learn what makes people tick. They don't want glib. They don't want superficial. If you give them more, they'll take it.
"Performing" with these things in mind is hard, it's draining, and it's uncomfortable. I don't yet know how to deliver at will a musical — or even a spoken — performance that is grounded in emotion. More often, the balance tips to the head and away from the heart.
And I learned, one more time, that I miss my dad.
The next time you have a public performance to do — musical, spoken, or otherwise — don't just do it from your head. Do it from your heart. Don't abandon logic, but find the emotional core of what you have to say and say it with passion. You'll thank yourself. And your audience will too.
I took a  bit of an abrupt break from blogging. Two things conspired. One good, and one bad.
On the good side, I got busy , and took some time for vacation. That led to the first hiatus. But then, the bad thing. Shortly after I returned from vacation, my dad passed away, and I've been trying to juggle work and the myriad details that immediately follow a death.
The good news is that my mother is a very strong woman. The other good news is that she's receiving moral support and paperwork from both of her children and their partners, her grandchildren, and being entertained and diverted by her great-grandchildren. So things are progressing about as well as they can in the wake of an event that was expected, to an extent, but still a terrible shock and a cause for mourning.
But enough about me. What's on my mind when it comes to communications, social media, and PR. And there are two things that I want to highlight that relate to social media and to business that the last several weeks have impressed upon me.
First, a succession plan and an interruption of business plan is a necessity, for businesses right down to the micro level. I like to have discussions with friends and colleagues so that if something comes up that makes my participation in a project difficult or impossible, I have someone who I can slot into the project with a minimum of prep time. If you're a SOHO, or a small retail business, what would you do if there was a death in the family, or if you were incapacitated by an illness or injury?
Second, it's easy for social media to be criticized as creating false or inauthentic relationships, relationships which aren't important. But when I got the call on a Saturday morning from my mom that my dad had died, I got support from my partner and my real-life friends. But I ALSO got support from people who I know only online. Cards. Memorial donations. Other gestures of caring.
Those gestures were meaningful. While I can't prove it or quantify it, I know it. And last I checked, there's no shortage of inathentic or fake rleationships in real life.
So those are two lessons that I've been thinking about since August 11. That, and that hugs are good. Give one to someone you like at every opportunity. It's hard to imagine a bad outcome from a good hug.
And finally, one of the thing sthat I had to postpone when my dad passed was my webinar in the Think Tank Summer E-learning Series, organized by SocialFish and CommPartners. Instead of August 16, I'll be presenting "Your New Content Strategy" on September 27. You can find more info and sign up here.
I've been more and more interested in smaller organizations lately. Many small businesses and associations are using social media very well. But many others — among them people who I've worked with or who I've taught social media courses at Algonquin College — find social media to be a perplexing challenge.
I think one of the biggest parts of the social media challenge for small businesses and not-for-profits is to create a strategy that allows them to be confident they can meet the demands that social media place on an organization. I think it's crucial that organizations without giant budgets or staff have a chance to create and maintain an effective social media presence.
You'll have a chance to learn how to create a content strategy as part of a small organization from… well, me, this August. I will be part of the Summer Think Tank Series presented by SocialFish and CommPartners. This series of webinars is bound to be useful for people working in associations, not-for-profits, or any small organization. Maddie Grant has led the development of this series of webinars, and she has done a pretty impressive job.
Check out this lineup:
Each of the webinars costs $129 US, and the whole series can be purchased for $499 US. And if you drop me an email, I might even have a discount code for you.
It's a real honour to be in the lineup with these talented communicators who I like and respect. And I'm looking forward to finishing the presentation and doing it online, hopefully with you in attendance.
One of the classic quotes from the world of business is attributed to John Wanamaker:
 Half the money I spend on advertising is wasted; the trouble is I don't know which half.
I'm guessing this is a familiar refrain for many business owners. It's easy to spend money on advertising, whether it's in the community paper, the local daily, radio, or online. Wouldn't it be nice to have a gauge that you could use to measure the effectiveness of that advertising?
But before I give you a few tips, a couple of theoretical points to address. First, it can take multiple exposures to a message before people will act on it — or even notice it. This is called, in the business, "effective frequency." So don't think that you can simply run an ad, and based on that one exposure, people will flock to your business.
Second, advertising plays a different role for businesses at different stages of their lives. Al Ries, a renowned brand strategist, characterizes it this way: "PR creates brands; advertising defends brands." So if you're a new business, you might be focusing your efforts more on the PR side. If you're an established, mature business, advertising may be taking a more prominent role.
So once you have a strategy in place and understand the role advertising plays in it… how can you tell if you're wasting your money? There are some simple things you can do:
Track online. QR (Quick Response) codes are those square barcodes you see on ads, posters, and the like. If you use QR codes in your advertising, you can track how many times those codes are scanned. Even if you don't use the QR codes, utilities like bit.ly offer similar abilities to track clicks (By the way, bit.ly will generate QR codes that you can use too). And plan out what your call to action will be. Don't just send people to your website — create a specific page to point them to. Then you will know by traffic if your message is getting through.
A/B testing is your friend. This may sound a bit intimidating. But the concept is simple. Don't just run one ad. Run two, with a variation in imagery, copy, and the like. Then use the tracking tools mentioned in tip 1 to look at which one is performing better. The easiest place to do this is online, using platforms like Facebook Adverts or Google Adwords, but you can do similar things with other forms of media, like print or direct mail. And it's particularly important to do this when using Facebook ads, which according to online marketing smart guy Brian Carter, "burn out" far more quickly than other forms of advertising.
USE YOUR KNOWLEDGE. All of this stuff is only cool if you

use

it

. Tracking the impact of your ads, measuring A/B results — you need to dedicate the time necessary to understand what the numbers are telling you.
If you are out of your depth on this, think about hiring someone to help build or run a monitoring system for you. But it is possible to do this on your own. Every step you take along this path is an improvement over doing nothing.
(This is post number nine in an ongoing series of posts aimed at providing practical advice for small businesspeople in the areas of public relations, communications and social media. If you ever need help with your small business… why not get in touch?)
I was recording a podcast with Dennis Van Staalduinen and Mark Blevis when it happened — I had an idea.
The phrase "the tyranny of the app" seemed to come up out of nowhere as we talked about creativity and the way people learn.
It was a minor epiphany, or so it seemed to me at the time. And I do think it actually has a little impact, so I'm going to expand on it here.
The backstory: while I'm one of three boys in my family, I was fairly distant in age from my brother — six and 12 years. So in some ways I was an only child. And what did I REALLLY love when I was a kid? Lego (or Legos, as I referred to them then).
Back then (the 1970s), Lego blocks were … blocks. There was the occasional curved piece. But most of them were slaves to the 90 degree angle. Squares, rectangles. Flat ones for foundations, bricks for building, long ones that joined structures together or served as wings… When I got one of these: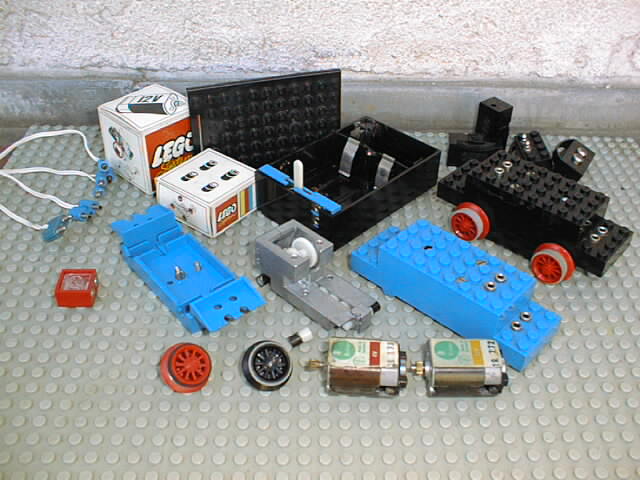 I was done. That was IT. The world had provided a great gift to me (or at least my parents had).
The point of Lego in those times was to build things. I can remember getting small kits of things that made model helicopters or the like. But most of the time, it was to create a microcosm. A world, a building, a place. And it came out of my brain.
As I aged, I grew out of playing with my Legos. And by the time I started to buy Lego for young people in my life, it had changed. The Bionicle. The Lord of the Rings sets. Harry Potter. Mindstorms.
And as I watched kids put the kits together, the idea wasn't to create a world, to create; it was to replicate the picture on the box.
What does this have to do with the "tyranny of the app?"
We have two ways of learning, two ways of interacting. We can create, or we can complete. We can follow a plan, or we can make a plan. We can build according to our own vision and desire, or we can take the instructions we're given and complete them.
Either way, we make something. It's up to you to decide which way of making something is more significant, more important. Better.
Tomorrow, I'm going to talk about escaping the tyranny of the app.