There's a pattern that computers and technology have made apparent over and over.
Pre-computers: music was recorded in expensive studios, controlled and distributed by labels. Post-computers: Computers come pre-loaded with free music recording software, and some of the music has gone on to great success.
Pre-computers: books were bought by publishing companies, printed on giant presses, distributed to bookstores. Post-computers: anyone (like my friend Sue, for example) can write an e-book (Produce: The Art of Creating Digital Content Using Professional Production Techniques)and take charge of distribution.
Pre-computers: making video required hundreds of thousands of dollars in equipment and highly-professional staff. A few television networks distributed programs and sold advertising. If you didn't make it on those networks, you didn't make it on TV. Post-computers: People with consumer-grade technology make videos and upload them to Youtube and other sites, making money from advertising and sometimes getting millions of hits.
Another example of this pattern is advertising. When your media choices were (more or less) daily newspapers, radio, and television, most businesses didn't do their own advertising. That was done by agencies, or by the media outlet. And it was expensive!
Then, pay-per-click came along. Google AdWords, Facebook, etc. etc. Suddenly anyone could advertise, even with just a few dollars a day to spend. Which is great! Except… sometimes it isn't.
I saw a sponsored post in my Facebook feed earlier this week. Somebody did something right, because it was for a new microbrewery in my hometown. Except … the ad copy said "opening Spring 2014."  Problem #1: the brewery  was already open. Problem #2: It was July.
I don't want to call out the business in question — they're a small startup, and there's no doubt they have a million things that they're trying to do. What happened isn't a capital crime. But it did point out something that I think happens quite a bit with small businesses and new businesses — their online advertising just gets a little bit out of control.
So I thought I'd give you a quick checklist for your online advertising.
Just because you're not spending thousands of dollars (unless you are!) doesn't mean you shouldn't be serious about it.
It's not like traditional media — you don't want ot run one ad or a couple into the ground. Have multiple ads running.
Response on online advertising drops off like a rock off a cliff. That's part of the reason to have multiple ads running at any one time, and also a reason to have an inventory of ads that you can swap in and out.
If you use a calendar, or a whiteboard, or whatever to keep a schedule, use it to note when your ads should be staritng and stopping. Also use whatever scheduling options you have in the advertising platform to "set and forget" ads, but have a backup.
Most online advertising gives you a limited amount of wording to play with, and an image. Work hard on those words and images, because they're your only chance at getting people's attention. Because you can create many ads, you can play with images and copy.
Regularly review the performance of your ads. Be strategic — and by that I mean ensure that your ads are pushing the viewer to some ACTION.
If you're doing online ads and want to do a little more education, I'm happy to help as much as I can — although I am not an online advertising expert. If you want to go deeper into this, there's a ton of great resources out there. For example, e-commerce company Shopify (an Ottawa success story, yay us!) has this great guide up on line.
And Brian Carter has two great books out that can help anyone use online advertising to their advantage:
The Like Economy,
and Facebook Marketing:

If you get through all that, you'd likely know more about this stuff than I would!
(Photo credit: cc-licenced image by Flickr user Marcin Wichary)
I'm writing this on the day after Canada Day, which always feels like the start of the week to me. Living in Canada's capital city means that you're going to get involved in some way, no matter how low-key, in our national celebration. Yesterday's revelry took place in lots of heat and humidity, and in the afternoon, there was a tornado warning — something that isn't exactly commonplace for Ottawa.
Today, I was surprised by news that a music festival in my home province of Nova Scotia is cancelling its 2014 edition (scheduled for July 4-6) because a very early tropical storm seems like it will hit Canso, the home of the Stan Rogers Folk Festival, right when they're supposed to be making music for an adoring crowd.
Outdoor events are by definition unpredictable. I was on the board of the Ottawa Folk Festival in 2010 when torrential rains made most of the site unusable and dealt a crippling blow to our finances. And in 2011, I was in the crowd at the Ottawa Bluesfest to enjoy a Cheap Trick show when a freak storm blew in and this happened (video shot by another bystander):
Fortunately, nobody died during that stage collapse, although there were injuries. Litigation over the collapse is still going on.
My experiences with music festivals have left me with an abiding interest in crisis preparation and response. And one of the most important things you can do as an organization is to have a "dark page" ready. What's that, you ask?
A dark page, or a dark site, is a pre-developed website that you can use in place of your organization's normal site in the event of a crisis of some sort. Why do this?
Well, if you look at the Stan Rogers Festival site, the cancellation media release is two clicks in. The main page, merrily promoting the festival and selling tickets, is what I see when I visit. Fortunately, you can't actually complete a ticket purchase, but a casual visitor wouldn't know what was happening.
If the Stanfest site had pulled down its normal page and replaced it with a simple site explaining the situation and informing various groups (ticketholders, performers, etc) of what they needed to know and how to get more information, the communication would be much more clear and straightforward.
Also, if anyone tries to share the news of the cancellation on Facebook, the site feeds FB information about the 2013 and 2012 dates, a fault in the HTML coding of the site:
Fortunately for Stanfest, their fans seem understanding and conciliatory. But if those fans begin to ask for information about refunds or rescheduling without quick answers, the patience may wear thin.
I fervently hope that the storm amounts to very little and that the folks behind Stanfest are able to put something together to salvage the festival.
Whatever your business, you should put a little thought into this. Crises happen everywhere, all the time. If you want to learn more about this, feel free to contact me, or you could read my friend Ann Marie van den Hurk's book "Social Media Crisis Communications." She's a superb thinker on this topic.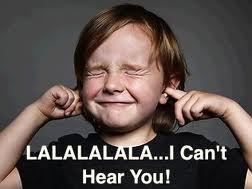 I did something last weekend that I'd never done before. I played music in a bar as part of a fundraising event. I've played music around campfires, I've played music in houses, I've performed solo at Bytown Ukulele Group meetings, I've jammed with people, I've participated in songwriters' circles, even on an open-mic on a boat as part of a conference. But never in front of a crowd of strangers.
Thankfully, my performance went pretty well, I think. I was pleased. But one thing that I wasn't prepared for, even though I've seen it a million times from the other side of the stage, was not being listened to.
I've done a lot of teaching. I've done lots of presentations. And I've had these musical performance experiences. The commonality among all of those things? I as the "performer" have the expectation of being listened to. When I stand in front of a classroom, or conduct a webinar, I assume that people are gong to be listening to me, watching the slides, etc.
So to have a bar full of people happily chatting while a PA system blared my voice and instrument out into the room was disconcerting. It was a painful reminder of what professional musicians face all the time — they're being paid to perform, but there's no obligation for the spectators to attend to them.
My set wasn't long enough, and my courage (confidence? arrogance?) not strong enough for me to DEMAND their attention. So I played through my songs, took the applause, and left the stage. The good news was that no matter whether a person listened to me or not, they paid to come to the show, which meant the cause benefited from them. Further good news (for me, at least) was that I wasn't so beset by stage fright caused by their inattention that I froze up (something that's happened before, to my chagrin — but at least it gave Chris Brogan something to write about!)
But since Saturday, I've been thinking about it. My conclusions?
There are circumstances and ways you can bring people back to you. But there are also circumstances when you can't. I once saw Josh Ritter silence a noisy bar by playing his first song unplugged and wandering through the audience. People were intrigued enough by this unusual behaviour that they fell silent, and by the end of that song, the room was silent. I wasn't going to try that one.
There are times when you ought to accept the circumstances as they are. Sometimes people just aren't interested in hearing from you, and it doesn't matter how loudly you're singing, or even if you're singing (or teaching) incredibly well. I once taught a class where one of the students fell asleep every time she came to class. There would have been a time in my life where I focused on that as a sign I was failing the student. But I now believe that the process of "performing" requires both the performer and the audience to be present. Whatever the reason, sometimes your "audience" can't be there for you.
You still have to bring your best. Even if your audience is not listening, you owe it to yourself to deliver just as passionately and as well as if you had people in the palm of your hand. Yes, it's harder (just as doing webinars is often harder than presenting to live audiences because you lack any feedback); but you still have to.
The final thing that I've thought in the wake of my experience? I want to try it again. I want to figure out some of those musician's techniques of getting an audience's attention for myself. Who knows: maybe becoming a more accomplished musical performer will make me a better communicator.
And if you want to see the performance? A quick trip to my Tumblr will let you get a sense of what the show was like.
If you've never seen or experienced some form of online harassment, you are in a TINY minority. This was brought home to me recently with the impact of a hammer on a nail. Survey results from a poll by a coalition of three organizations (Rad Campaign, Lincoln Park Strategies, and Craig Connects) got released June 4, and it is a sad story.
Among the "highlights" from the infographic the group produced:
47% of respondents under 35 reported being harassed.
Facebook is a particular hotspot for online harassment.
Women and men report sexual harassment at nearly identical rates (44% of women, 43% of men).
Half of the people who were harassed did not report it.
Nearly 30% of people surveyed report being afraid for their life as a result of online harassment.
3 in 5 people surveyed think laws concerning both online and in-person harassment are not strong enough.
Perhaps you are lucky enough to not have experienced harassment online. However, chances are that you've seen someone — a friend, colleague, whatever — harassed online. So whether you have experienced it directly or secondhand, you have a stake in changing this. We ALL do.
There's no doubt that much harassment both exemplifies and reinforces deep and toxic threads of hatred: racism, intolerance, misogyny. But it's simplistic and unproductive to throw up our hands in the air and simply blame "attitudes" for this problem. To my mind, we fall into one of three categories when it comes to online harassment:
If you're a harasser: stop it, or the rest of us are going to stop you.
If you're a victim: don't swallow this. Don't hide it, or hide from it. Tell the people who care about you. Take action. Report the behaviour. If you don't feel strong enough, ask for help with it.
If you're an onlooker (like me): Step up.
There have been countless examples of people being affected by this, from respected bloggers going silent to comic book artists being threatened with death to people at conferences being harassed online and offline to young people killing themselves. All of it is unacceptable. And we all have two duties: to support those being harassed and to confront the harassers.
There are more of us than them. We don't need to become virtual lynch mobs, doing to the harassers what they've done to others. We just need to tell these bullies that we see them, that they must stop, and that they are not going to do this anymore.
Later on comes the change of attitudes. At some point, we need to figure out why these people are doing what they're doing, how we can help them understand how wrong it is, and make them change their beliefs. But first, the behaviour has to stop. And the biggest thing you can do? Call people out. And if we become targets, we should expect the same support from others that we give.
Can we eliminate this problem? Not quickly, easily, or likely ever. Can we improve it? Undoubtedly.
Are you looking for more help responding to online harassment? I can't recommend the organization CiviliNation highly enough. They have lots of resources, and CiviliNation founder Andrea Weckerle's book Civility in the Digital Age is excellent.
Everybody makes mistakes. I certainly have. You have too. Even if you're shaking your head.
The key to mistakes is getting past them. This is the story of what happens when you try not to.
Here in my city of Ottawa, there once was a man named Jack Purcell. Postal worker Jack Purcell lived in Ottawa's Centretown neighbourhood and became famous for helping local youngsters to take part in hockey. For his contributions to the city, a park near his home was named after him, as well as an adjacent community and recreation centre, which opened in 1974.
That park was being revitalized, with a $525,000 budget, and it was decided to put some public art in there. Great idea. I'm a big fan of public art. But, according to the local city councillor, that's where things went wrong. A quick Google of "Jack Purcell" led the landscape architects to a famous Canadian badminton player of the 1930s and 1940s who was the world badminton champion of his day. They then designed 10 sculptures.
Now here's where it gets a little fuzzy. According to Councillor Diane Holmes, quoted in this Ottawa Citizen story: "The original design actually called for the racquet-shaped light fixtures — which each cost $4,595 — to be strung like real racquets, but that plan was nixed, Holmes added."
The city staffer in charge of the project says the sculptures were never meant to commemorate Purcell, and that many people say they don't look like badminton racquets anyway.
And — here, finally, is my point — the landscape architect says they're stylized trees. In an interview with the local paper, architect Jerry Corush, a principal at CSM Landscape Architects, is quoted as saying ""We just didn't stick our heads in the sands and say, 'Well, we had a design and we're going with it no matter what…In my eyes, it's a stylized tree…We've been out there and some people will walk by and they'll go, 'It looks like a tennis racket, it looks like a tree, I don't know what it looks like, and we just go, 'Perfect, it's a piece of art, it's your own interpretation of what it is…This was the perfect example of why you go out to the community with design ideas ahead of finalizing anything…We knew that what we were doing. It sounds like we didn't know what we were doing."
This is one of those really embarrassing situations. There's blame enough to spread around, that's for sure. The Canadian Encyclopedia's online entry states (incorrectly) that the centre is named for the badminton player (please note that Wikipedia does not duplicate that error). Worse, There's not a word about who Jack Purcell is on the city's website, or on the community centre site. And when media contacted Jack Purcell (Ottawa, not the badminton guy)'s son to talk about the sculptures, he mentioned that he hadn't been contacted about the revitalization of the park or invited to the reopening ceremony. Awkward.
But worst of all, the landscape architect is trying to have his racquet and tree it too. While Corush might like to believe that they changed their idea, it appears the biggest change was to take the "strings" out of the "racquets" and add some LED lighting. Corush would be well advised to back down on his earlier remarks to the Ottawa Citizen and take a line like this: "We screwed up. We've tried to make the best of it, and eventually people will forget about all this. It's a bit embarrassing for us, but the sculptures are attractive, and with their lighting, they're also functional. We hope people will grow to love them."
Public art is one of the easiest things in the world to criticize. And when something like this happens the criticism comes VERY easy. It would be better for all concerned if they owned up to their mistakes rather than trying to spin, obfuscate, or stretch the facts to try to cover up what is, in the end, a mistake.
I was shocked today to get pointed to a post on the Hootsuite blog by friend Kami Huyse. The post "What is the most sought-after selfie?" looked at recent famous selfies. What galled me was this paragraph:
2014 was the year of the first billion-dollar selfie. During the 2014 Oscars, Ellen DeGeneres snapped a group selfie, rumored to be sponsored by Samsung, with the likes of Brad Pitt, Angelina Jolie, Bradley Cooper, Julia Roberts and Meryl Streep. She then uploaded the photo to her Twitter account and ended up getting millions of retweets from people around the globe. Maurice Levy, CEO of advertising firm Publicis, said that the Oscar selfie was worth between $800 million to $1 billion to its client Samsung.
I immediately shared some inappropriate words, then I left a comment on the post. But apparently I still have more to say.
Lévy is the CEO of a gigantic conglomerate of agencies lumped together as Publicis Groupe, and he was doing a talk at the MIPTV summit in April, just after the Academy Awards. Here's the crucial quote:
The quote: "The earned media —  all the buzz which had been done around the Oscars — represents roughly a value between $800 million and a billion US dollars, because it has been mentioned all around the world, and the Samsung phone has been either mentioned or seen."
M. Lévy has, no doubt, achieved great things. His group of companies generated $2.3 billion in revenue (US dollars) in the first quarter of 2014. Compared to me, he's a top predator, and I'm an amoeba. So I am shocked to see a man of his stature, in his position, use a metric that has been so thoroughly discredited — Advertising Value Equivalency, or AVE.
AVEs have been around for a long time. And despite the efforts of many professional groups and individuals, they remain. Why are they problematic? I can't state the reasons much better than this 2003 paper from the Institute for Pubic Relations. I'll turn the paper's objections into bullet points for brevity:
There's no factual basis for assuming that an "editorial" mention is equivalent to an advertisement
The credibility of media varies from one topic and one outlet to the other. So using one "multiplier" is impossible
AVEs only measure what APPEARS, while PR folk often work to minimize coverage or not see something appear at all. This is not measurable by AVE
Advertisements depend on repetitive mentions to build awareness. "Earned media" cannot do the same
Not everything is relatable to advertising. If there are no ads on the front page of a magazine, what's the value of a cover mention?
If a story tangentially mentions a brand or an organization, does the equivalency relate to the entire story or the portion of the story mentioning the specific brand?
In 2010, a coalition of leading communication organizations agreed upon what came to be known as the "Barcelona Principles." Principle number five of the seven principles states: "AVEs are not the value of public relations." Yet, according to PR News earlier this spring, the principles are not being adopted as quickly as might have been expected. Or hoped. And when you have people in the position of Maurice Lévy using these discredited and disavowed numbers, while it remains disappointing, it becomes less surprising.
The lesson for us here? I could simply and flippantly say "Don't follow leaders."  But there's a slightly deeper lesson here. Even if you're working with a "top agency", even if you're hiring "the best" — you owe it to yourself and your business to be ready to call BS on what they tell you. Don't simply assume they know best, that their advice should be taken. If you can't understand the strategy, or the method of evaluation; if you can't relate the tactics to your business goals: speak up. Ask for better.
And if you're a communicator — find a way to help push our industry out of the bad habits that we've developed. We can do better. And we know how.
Apparently, the key is to dress like a fool and say a lot of really obvious things very quickly, punctuated by irrelevant personal anecdotes.
David Shing, AOL's "Digital Prophet", a/k/a "Shingy", nails it.
Yesterday was an anniversary. Eleven years ago, I started this blog. I was working media relations for a university then; both my parents were alive; I had a regular column for a CBC Radio show (in fact, a lot of the early content of the blog was made up of scripts for my CBC column), and I thought there was something to this social media thing, but I wasn't quite sure what it was. Who knew I'd still be doing this a decade later?
Not that I planned any of this out at all, but my blogiversary coincided with a visit to Ottawa by Gini Dietrich, the CEO of Arment Dietrich and the author of the brand-new book Spin Sucks (also the name of the agency blog). I'm working my way through the book and plan on giving it a fuller review soon. But her appearance at Third Tuesday Ottawa was a convenient marker.
I have a lot of respect for Gini, the business she's built, and how she's done it. I also like her a lot. She's fun and funny to be around, and she falls in that category of people that I take great pleasure in teasing (not growing up with sisters leaves a void in your life you have to fill somehow). And it was unsurprising to me that her presentation to TTO was typical of her: incisive, opinionated, entertaining, and well-reasoned.
Gini summed up one of her central arguments about the suckitude of spin as "It's a marathon, not a sprint," referring to the need for PR practitioners and clients to adopt a long-term mentality toward social media and toward brand identity. For example, don't use black-hat SEO techniques for an immediate boost in search engine results (sprint); build your site and act in a manner so as to build those results over a longer term (marathon). She's been developing this metaphor for some time.
I like the metaphor (and forgive her for using a running metaphor despite her being a far superior athlete – a cyclist – than just some runner). But here's the challenge of being a marathoner in this business is trying to convince people to stop running so fast.
The social media tools and the availability of real-time results is a potent drug, and it's easy to become addicted to instant feedback, instant action, instant reaction. So the challenge for me when I'm working with a client is to simultaneously tell them to be active on social media, to be monitoring feeds and the like, but at the same time to not assume or expect that your video will go viral, that your blog will rocket to the top of the charts, etc. That's especially true if you have other people in the consulting world who are promising those easy instant results.
In my experience, one of the best things I can do with a client is get them into using an editorial calendar for their social media efforts. Turning the page from month to month – physical or virtual – makes people think longer term. What powerful tools or arguments have you discovered to help your clients or your colleagues get the tricky balance between FASTER and SLOWER! I'd like to hear 'em.
I was pleasantly surprised to discover that — as if by magic — just a few days after writing "It's hard to be social when you're not social" about the Canadian federal government's difficulty grappling with social media, Digital Canada 150, the long, longgggg-awaited digital strategy of the Government of Canada was released on Friday afternoon, April 4.
This is a digital strategy that's been promised and not delivered by five Industry Ministers since 2006, when the current government was first elected. So if the rest of this post is critical, I have to give the current minister James Moore some kudos for at least publishing something.
The first thing that gave me the willies? A Friday afternoon release. Even though it seems everyone's wise to the tactic, I still get worried that a Friday afternoon release of anything means there's a desire to bury it.
The second thing that gave me the willies? The flash animation for the launch, leading to the … flipbook and downloadable PDF, which treat the reader to full-page vanity messages from Industry Minister James Moore and Prime Minister Stephen Harper.
And then we get to the meat of it. There are five pillars to the strategy: Connecting Canadians, Protecting Canadians, Economic Opportunities, Digital Government, and Canadian Content.
Each section has a number of policy directions, followed by a list of things the government has done, will do, and a success story.
A year-and-a-bit ago, Maclean's magazine writer Peter Nowak wrote this "New Year's resolution" for a digital strategy. In it, he argued for things like:
Create a Technology Minister.
As Nowak put it, "Incubators, incubators, incubators."
And a combination of increased broadband service and subsidies and training for those who aren't currently online.
Veteran Internet observer Michael Geist calls the document "the digital strategy without a strategy", and points out that of the $5.72 billion the government just raised from a wireless-spectrum auction, the plan identifies far less than that in investment. And IT World Canada's Howard Solomon quotes Geist and others with some fairly substantive criticism. Openmedia calls it a rehash of previous announcements.
Byron Holland, the president of CIRA, Canada's .ca registry, wrote in a blog post "The digital economy, and Canada's digital future, is too important to be left to a series of activities that may or may not relate to one another. We have seen time and time again what happens when leaders get too focussed on day-to-day activities instead of focussing on a strategic direction."
CIRA's 2010 submission to one of the consultations that led to this strategy suggested, among other things, that "it is useful for the Government of Canada to benchmark Canada's performance in the digital economy against other countries and in particular against major trading partners. With this in mind, it might be useful to create an ongoing compendium of publicly available data with an annual assessment of where Canada stands, available on-line." Sadly, there's nothing in the strategy about that, and if there were, we might well be quite disappointed with the results.
My particular hobbyhorse last week, and on an ongoing basis, is the federal government's use of social media in its operations. The Digital Government section offers not the slightest hint that government departments or agencies will see their ability to actually DO social media increase between now and 2017 (the 150th anniversary of Confederation, our country's founding). The section focuses almost entirely on open data — a useful tool, and not one I'd argue against. But if you were hoping that this document might encourage departmental blogs, or Youtube videos with comments enabled, or Twitter feeds that actually conducted conversations with followers, you are wearing a black armband today.
Our federal government has at its fingertips great levers of power and money. So far, it has not chosen to use those levers to re-engineer government to catch up with what we're doing in our daily lives, right now. Rather, it's simply going to pick around the edges of things, drop a little money from time to time, and unfortunately, let its citizens — and its international counterparts — leave it in the dust.
A bit of a media — well, not a storm — drizzle began in my city last week. My local newspaper ran the story "Four staff work on widely-unwatched PMO promo videos."
The nub of the story: in January of this year, our country's Prime Minister (already the subject of some severe criticism for his inaccessibility to media) launched a YouTube feature called "24-Seven" ("24-sept" en français). The videos, at least one each week, are published to the PMO's YouTube channel. And viewership has been less than revolutionary. The March 20-26 edition has 30 views in English as I write this, and 12 in French. Four public servants produce those sparsely-viewed videos "as part of their regular web publishing duties." Those public servants include a director (annual salary at least $105K), a "multimedia specialist" (starting salary $56K), a "project coordinator" (starting salary $72K), and an "analyst" (starting salary $52K). The story notes that information wasn't available about the people who actually shot and edited the video.
It's easy to scoff at videos that have two-digit view counts, and equally easy to be sniffy about the expenditures. But this initiative is far from the only federal one that has failed on YouTube. Canada's National Research Council has a four-year-old channel with 29 videos. Two of them have more than 2,000 views. Industry Canada's channel has 15 videos, of which one has more than 1,000 views. Health Canada has posted 97 videos over the last four years, and has relative success, with some videos approaching 70,000 views. Environment Canada's most popular video of its 30 has 9,300 views.
This week, the opposition parties to our federal government are continuing to ask questions about the videos, according to a post by intrepid CBC blogger Kady O'Malley. The opposition parties are assuming, I guess, that there may be tidbits they can use to hold the government up to ridicule or attack.
It's surprisingly hard to get high-level numbers about YT views. A 2009 study by Tubemogul showed that less than five per cent of Youtube videos got more than 5,000 views. If those numbers are still even close to accurate, even 1000 views is not a definite failure.
Why don't videos produced by our government do that well? Because Canada's federal government does not do a good job with social media. It's that simple. It consciously turns its back on the things that differentiate social media from traditional government communications methods. What do I mean by that?
In no particular order:
Closed comments and strangled sharing options
Lack of promotion
Lack of interaction with potential viewers
Focus on the channel and not the strategy or the content
Comments and sharing. If you put your videos up and disable comments and prevent people from embedding them in other pages, you tell the viewer that you're not interested in the conversation.
Lack of promotion. Videos rarely just magically find viewerships. You need to get them out there, with concerted effort at sharing. When even the most innocuous tweet is subject to a truly onerous process, it's impractical to promote your video assets. Imagine if someone were to tweet "Would love to do my taxes, but I don't think I know how", and someone from CRA replied with a pointer to a video tutorial! But if that tweet has to be seen and approved by dozens of people, it's never going to make a difference. That's just one example of how social media could be used to promote video assets but isn't. Another example: the Public Health Agency of Canada has a channel with 29 videos. It also has a FB page with 7,854 likes. I went through the FB page for 2014 and 2013, and there were no posts pointing people to the Youtube channel or to a specific Youtube video. Those types of cross-promotion have no "hard costs" attached; it's not like you're buying Google Adwords or FB "boosts" and spending real money. It's someone's time.
Lack of interaction with potential viewers. Canada's federal government doesn't allow its public servants to take individual voices online. There's a long tradition in Canada where the Prime Minister speaks for Canada, his or her cabinet ministers speak for their departments, and the public service works impartially and anonymously, away from the public sphere. There are rare exceptions: Environment Canada meteorologist David Phillips is a bona fide star, doing countless interviews about weather. But Phillips has no online brand — no Twitter account, FB profile (that I can find), no blog. So his public persona is based on doing interviews with journalists, not with interacting with "normal people."  Other jurisdictions allow their public servants more latitude. For example, the UK's Foreign and Commonwealth Office has nearly 200 of its employees on a blogroll. These posts are often engaging and VERY personal. They even allow UK citizens to guest blog, like this expat who now lives in Sofia, Bulgaria. Another example: the US FDA has a Twitter account, and while I don't know who is behind its Tweets, they do engage with their readers from time to time, like this:
When everything is collective, impersonal, and when there's no conversation at all, there's no opportunity to build relationships with the people who might be interested in your content.
No focus on the strategy, content or presentation. Many federal government videos lack creativity and end up looking and feeling like really second-rate corporate products. I frequently point to this video, produced by the National Research Council as an example of what government gets wrong with YouTube:
Sadly, this is not a particularly isolated example. Slick? Yes. Professionally shot and edited, from the look of it. But the supers (the text that flies by) have no relationship to the images. The images themselves are simply an amalgam of people doing things that are more or less understandable. There's no human voice to it. There's no call to action; there's no strategy or plan underlying the shooting.
Even when the NRC has cool content — NRC scientists spent two nights in the Louvre doing amazingly detailed scans of the Mona Lisa — the presentation of this content has a pedantic, "this is good for you but you won't like it" feel. Why not speak with one of the scientists doing the work? Why not have him or her walk you through the painting? Why not explain why of all the countries of the world, the NRC's equipment was the best to do this job?

I teach a lot of public servants about social media. And often, the classes are punctuated with "we can't do that"s, with rueful head-shaking, with eye-rolling. I understand that there's a value to government proceeding slowly in terms of its adoption of technology. But there is — or at least there should be  — a premium placed on innovation. The US Centers for Disease Control must believe that; they published an emergency preparedness guide to a zombie apocalypse, and garnered huge acclaim and attention.
The only thing surprising to me about the Prime Minister's video channel is that it exists at all. That it's poorly watched and takes four people to make the videos? No surprise. That its content is uninspiring and its presentation is not innovative at all? No surprise.
There's one more thing that is disturbing about how our federal government uses social media, and it was stated perfectly by Ken Mueller in his recent post "Social media: where marketing goes to die." I can't say it any better than he did, so here's his key paragraph:
When it comes to social media, I think most failed efforts are pretty much the same. It's not that social media doesn't work, it's just that those in charge are generally guilty of some form of neglect. We spend a lot of time and effort on all sorts of marketing and communications campaigns, but somehow, social media comes last. Social media suffers from neglect. And then I hear "I guess it doesn't work."

No, you just let it die.
I worry that public servants will look at moribund Youtube channels, not understand the context of social media, and decide that even 70,000 views is a failure. And with no commenting or embedding, there's no way to show other things that might indicate a video is catching people's attention.
I don't expect government videos to be as creative as those done by two creative individuals like Pomplamoose (keep in mind, these folks compose, perform, and record the music AND shoot and edit their videos themselves). Trust me. In an enterprise as large as the federal government, there are people who have the technical and creative skills needed to make truly good videos. But they're hamstrung. Same thing with every social media channel. The potential for excellence is there. But surely there's an inch of play that the government's communications policies could allow the talented communicators who work there to exercise.