Posts Tagged 'distraction'
I was unplugging a phone charger this morning, when I looked at the outlet. What did I see?
One of those. Except mine was full. Then I realized that most of my outlets, instead of just having two things plugged into them, had one of these plugged in, so I could plug SIX things into them. In some cases, one of those might be a power bar, meaning there might be 11 separate things going into that electrical outlet (by the way, did you know that the standard electrical outlet, with its three prongs, is called a NEMA 5? Specifically a NEMA 5-15R? Me either). And thankfully, the picture of a truly epic (and stupid) cable octopus is NOT taken in my house.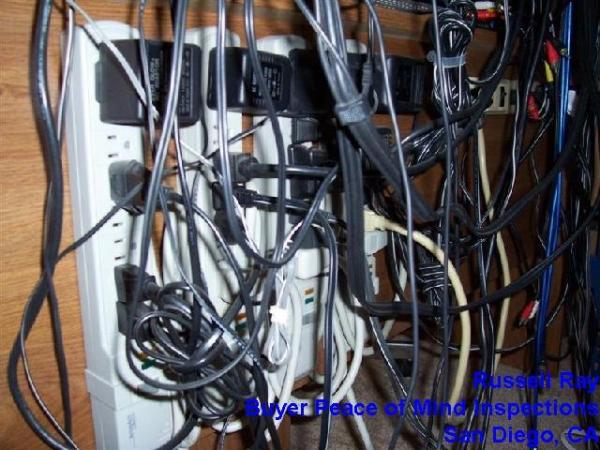 It made me think about two things. First, the houses we live in. We still build houses with the standard two-outlet (called a twin-duplex) configuration. Most new houses have more outlets than older houses. But they're still the same old outlets.
I think the difficulty with managing electrical outlets in older houses can tell us a lot about the change in the way we live.So we maximize their use for our computers, stereos, home theatres, routers, portable hard drives, telephone chargers, battery chargers, and on and on and on… If you live in an old house, you know just how hard it can be to manage electrical outlets. And that's especially important for folks like me, who spend a lot of their work time in their house. My home office has a lot of devices plugged in. My computer might draw 50 watts, not like a clothes dryer or my electric oven. But put all those little drains together, and we're using lots of power.
The second thing it made me think of was my brain. Huh? Think of the devices in your life. The phone, the tablet, the laptop, the digital camera the desktop, the TV, the iPod, the stereo, the clock radio, the landline, the office phone… Think of all the things we plug in, and that we can't imagine living without. Each of those is as much a drain on our consciousness as their corded counterpart on is on our electrical service.
And with each new media creation — radio, gramophone, telephone, mobile phone, television, internet — we've increased the demand in our brain for places to plug all this stuff in. But we still have two eyes, and two ears, just like those old outlets. How much power drain do we experience from the multitasking?
I'm not saying UNPLUG EVERYTHING! here. Most of the time, I love the things that all this connectivity has allowed us to do. Social media, increased opportunities for individuals and businesses to communicate with each other and share information and content: that is good, and powerful .
But it's worth thinking about a bit more conscious management of the cables and plugs that bind our devices to our houses — and our brain.