Posts Tagged 'house concert'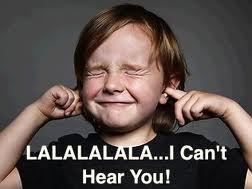 I did something last weekend that I'd never done before. I played music in a bar as part of a fundraising event. I've played music around campfires, I've played music in houses, I've performed solo at Bytown Ukulele Group meetings, I've jammed with people, I've participated in songwriters' circles, even on an open-mic on a boat as part of a conference. But never in front of a crowd of strangers.
Thankfully, my performance went pretty well, I think. I was pleased. But one thing that I wasn't prepared for, even though I've seen it a million times from the other side of the stage, was not being listened to.
I've done a lot of teaching. I've done lots of presentations. And I've had these musical performance experiences. The commonality among all of those things? I as the "performer" have the expectation of being listened to. When I stand in front of a classroom, or conduct a webinar, I assume that people are gong to be listening to me, watching the slides, etc.
So to have a bar full of people happily chatting while a PA system blared my voice and instrument out into the room was disconcerting. It was a painful reminder of what professional musicians face all the time — they're being paid to perform, but there's no obligation for the spectators to attend to them.
My set wasn't long enough, and my courage (confidence? arrogance?) not strong enough for me to DEMAND their attention. So I played through my songs, took the applause, and left the stage. The good news was that no matter whether a person listened to me or not, they paid to come to the show, which meant the cause benefited from them. Further good news (for me, at least) was that I wasn't so beset by stage fright caused by their inattention that I froze up (something that's happened before, to my chagrin — but at least it gave Chris Brogan something to write about!)
But since Saturday, I've been thinking about it. My conclusions?
There are circumstances and ways you can bring people back to you. But there are also circumstances when you can't. I once saw Josh Ritter silence a noisy bar by playing his first song unplugged and wandering through the audience. People were intrigued enough by this unusual behaviour that they fell silent, and by the end of that song, the room was silent. I wasn't going to try that one.
There are times when you ought to accept the circumstances as they are. Sometimes people just aren't interested in hearing from you, and it doesn't matter how loudly you're singing, or even if you're singing (or teaching) incredibly well. I once taught a class where one of the students fell asleep every time she came to class. There would have been a time in my life where I focused on that as a sign I was failing the student. But I now believe that the process of "performing" requires both the performer and the audience to be present. Whatever the reason, sometimes your "audience" can't be there for you.
You still have to bring your best. Even if your audience is not listening, you owe it to yourself to deliver just as passionately and as well as if you had people in the palm of your hand. Yes, it's harder (just as doing webinars is often harder than presenting to live audiences because you lack any feedback); but you still have to.
The final thing that I've thought in the wake of my experience? I want to try it again. I want to figure out some of those musician's techniques of getting an audience's attention for myself. Who knows: maybe becoming a more accomplished musical performer will make me a better communicator.
And if you want to see the performance? A quick trip to my Tumblr will let you get a sense of what the show was like.
S
ince I have a foot in the music "industry", one of my regular reads in my RSS Reader is the Musician Coaching blog by Rick Goetz. He quite often has posts of interest to me. But last week, he had one that hit me right in the bull's-eye: an interview with a singer-songwriter about how she built her career around house concerts.
About now, you're asking what a house concert is. Quick explanation: a house concert is a musical event where a host opens up his or her home to a performing musician, and that musician is paid by donations from the audience. My partner and I started doing house concerts in 2007, and have had about 40 evenings where amazing musicians have left audiences laughing, crying, or just about any reaction in between.
After I carefully read the post, I left a comment praising the post, adding some background and context, and correcting (politely and constructively) some misstatements. That was on March 21. I waited a while, then dropped back to the site to see if there was any response to my comment. It was still in moderation. And, as I write this, there it remains, in moderation. After a few days I emailed Goetz to ask if there was some reason my comment wasn't being approved, and I tweeted him as well. To this point, I haven't heard from him. It's been five days.
I'm not egotistical enough to think that being deprived of my comment is something that will affect anybody. But I do want to point out a problem that many websites face – handling comments well.
To effectively manage commenting, there are two things to keep in mind: your policy, and your technology.
First, policy. Decide if you even want comments. Most of the time, the advantage of comments — the extension of the conversation —  outweighs the disadvantages. But if you are concerned about abusive comments, about spam or malware, or have another reason for not wanting to allow comments, then that's a choice you have the right to make. For example, übersite Copyblogger has just ended commenting on its site, arguing that the conversation shouldn't be confined to its own property, but should be "in the cloud." I don't quite get that, but hey, they're way more important than me, so …
You need to think about whether you are going to allow anonymous comments. I am generally of the belief that you should be confident enough in what you say that you're willing to say it under your own name. Much of the worst vitriol online is generated by people using anonymous handles rather than real names. There's no "right" answer to this beyond the answer you decide is right.
If you decide to accept comments, then you need to think about how you're going to do it. You can let the floodgates open up and allow people to comment willy-nilly, without moderation. You can have people moderated the first time, but are given free rein once they've had a first comment approved. You can always have comments moderated. If I'm working in that environment, I get email notifications when I have comments, and I pretty much ALWAYS immediately click on them. If you're going to moderate, you're pretty much committing to TIMELY moderation or you're going to take the wind out of the conversational sail.
If you moderate, you also need to make clear somewhere on your site why you moderate, and under what circumstances you won't approve a comment. It's much easier to point people to your house rules and explain why what they wrote is not going up on the site: personally abusive, obscene language, racist content, etc. are some of the reasons that are quite valid for rejecting a comment. AND DO NOT rewrite anyone's comments. That's just not done.
Now, to the technology.
Most modern blog software have built-in commenting systems. My usual recommendation is to ditch those. They're pretty rudimentary, and there are better ones that you can plug in with little difficulty. There are three that are commonly used: Livefyre, Disqus, and Facebook. The nice thing about these commenting systems is that they allow things like threaded discussions, so that you can follow the flow of a discussion. They also allow people to sign in using a variety of social media tools (e.g. Sign in using Twitter, Google, etc. etc.). That makes it easy for people to sign in. While I'm not a giant fan of Facebook-based comments, there's one undeniable advantage to them — when people comment using the FB comments, it will more often than not pop up on their wall, which may lead to people discovering your post from the commenter's wall.
So put a little thought into your strategy around blog commenting. It'll pay off down the road.