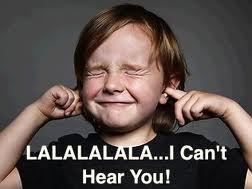 I did something last weekend that I'd never done before. I played music in a bar as part of a fundraising event. I've played music around campfires, I've played music in houses, I've performed solo at Bytown Ukulele Group meetings, I've jammed with people, I've participated in songwriters' circles, even on an open-mic on a boat as part of a conference. But never in front of a crowd of strangers.
Thankfully, my performance went pretty well, I think. I was pleased. But one thing that I wasn't prepared for, even though I've seen it a million times from the other side of the stage, was not being listened to.
I've done a lot of teaching. I've done lots of presentations. And I've had these musical performance experiences. The commonality among all of those things? I as the "performer" have the expectation of being listened to. When I stand in front of a classroom, or conduct a webinar, I assume that people are gong to be listening to me, watching the slides, etc.
So to have a bar full of people happily chatting while a PA system blared my voice and instrument out into the room was disconcerting. It was a painful reminder of what professional musicians face all the time — they're being paid to perform, but there's no obligation for the spectators to attend to them.
My set wasn't long enough, and my courage (confidence? arrogance?) not strong enough for me to DEMAND their attention. So I played through my songs, took the applause, and left the stage. The good news was that no matter whether a person listened to me or not, they paid to come to the show, which meant the cause benefited from them. Further good news (for me, at least) was that I wasn't so beset by stage fright caused by their inattention that I froze up (something that's happened before, to my chagrin — but at least it gave Chris Brogan something to write about!)
But since Saturday, I've been thinking about it. My conclusions?
There are circumstances and ways you can bring people back to you. But there are also circumstances when you can't. I once saw Josh Ritter silence a noisy bar by playing his first song unplugged and wandering through the audience. People were intrigued enough by this unusual behaviour that they fell silent, and by the end of that song, the room was silent. I wasn't going to try that one.
There are times when you ought to accept the circumstances as they are. Sometimes people just aren't interested in hearing from you, and it doesn't matter how loudly you're singing, or even if you're singing (or teaching) incredibly well. I once taught a class where one of the students fell asleep every time she came to class. There would have been a time in my life where I focused on that as a sign I was failing the student. But I now believe that the process of "performing" requires both the performer and the audience to be present. Whatever the reason, sometimes your "audience" can't be there for you.
You still have to bring your best. Even if your audience is not listening, you owe it to yourself to deliver just as passionately and as well as if you had people in the palm of your hand. Yes, it's harder (just as doing webinars is often harder than presenting to live audiences because you lack any feedback); but you still have to.
The final thing that I've thought in the wake of my experience? I want to try it again. I want to figure out some of those musician's techniques of getting an audience's attention for myself. Who knows: maybe becoming a more accomplished musical performer will make me a better communicator.
And if you want to see the performance? A quick trip to my Tumblr will let you get a sense of what the show was like.
I've been more and more interested in smaller organizations lately. Many small businesses and associations are using social media very well. But many others — among them people who I've worked with or who I've taught social media courses at Algonquin College — find social media to be a perplexing challenge.
I think one of the biggest parts of the social media challenge for small businesses and not-for-profits is to create a strategy that allows them to be confident they can meet the demands that social media place on an organization. I think it's crucial that organizations without giant budgets or staff have a chance to create and maintain an effective social media presence.
You'll have a chance to learn how to create a content strategy as part of a small organization from… well, me, this August. I will be part of the Summer Think Tank Series presented by SocialFish and CommPartners. This series of webinars is bound to be useful for people working in associations, not-for-profits, or any small organization. Maddie Grant has led the development of this series of webinars, and she has done a pretty impressive job.
Check out this lineup:
Each of the webinars costs $129 US, and the whole series can be purchased for $499 US. And if you drop me an email, I might even have a discount code for you.
It's a real honour to be in the lineup with these talented communicators who I like and respect. And I'm looking forward to finishing the presentation and doing it online, hopefully with you in attendance.