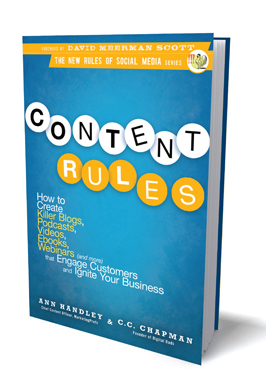 I was lucky enough to be at the very first event in the Content Rules book tour, a Social Media Breakfast here in Ottawa with co-author C.C. Chapman. And what makes CC a good presenter is the same thing that makes this a good book: He's engaging, dynamic, and can present complex concepts in accessible ways.
UPDATE: The indefatigable Robin Browne has posted audio of the SMB Ottawa event.
Content Rules is part of a series of books being put out by Wiley as a series called "The New Rules of Social Media", with supervision by David Meerman Scott of The New Rules of Marketing and PR fame. I consider The New Rules of PR and Marketing a Bible for anyone in the social media world. So this puts Handley and Chapman's book in very good company. And for the most part, it holds up to that set of implied expectations.
The book is divided into three main sections. The first 10 chapters go through Handley and Chapman's 11 rules (11 may or may not be a Spinal Tap reference); the second is a how-to chapter dealing with various social media tools and tactics. The third part is a set of nine case studies with organizations ranging from small and private-sector ( ) to the huge and governmental (U.S. Army).
Likely the best thing about Handley and Chapman's book is its usability and practicality. It's the sort of book that can be dipped into at any time or to answer a specific question. Should I call my  webinar a webinar? Ding! page 168. Is this thing I'm writing an e-book or a white paper? Ding!
The book is written in an exceedingly friendly and accessible tone, not unlike the tone of a series of  coffee dates with a friend whose brain you're picking to get up to speed on "all this social media stuff." And they don't skimp on smart ideas, either. Several of them hit me where I live. For example, "Chapter 5: Reimagine, Don't Recycle" immediately pointed to my failure to take the content I generate and wring as much out of it as I possibly can. But thankfully, it also offers solutions. Chapter 9 offers a super explanation of how to set up what Handley and Chapman call a "Listening Dashboard" — an exceedingly useful tool for anyone engaging in content creation.
The Bad:

The weak part of the book is also a strength. Does that seem impossible? Sure it does. But let me explain. Handley and Chapman err on the side of creating stuff, rather than becoming so obsessive over quality that you never actually "ship", to use the Seth Godinism.
Where I think this goes wrong is when, for example, they argue against "bland corporate tone." I agree with their point, but it doesn't seem practical to me to expect every organization to find that human voice in their online or offline content. For many organizations (and since I'm in Ottawa, I see it a lot) it's just not going to happen that someone can inject a "unique, human-sounding voice." What's worse, I worry that some organizations will take Handley and Chapman's advice as a suggestion to forget about grammar, spelling, or the basic rules of good communication. Being human does not mean sounding stupid or grasping at a hipness you can't achieve.
The Ugly:

An odd thing to say here: The book feels oddly insubstantial. Obviously, this wouldn't be an issue with the e-book version, but I think there's something about the paper stock that makes the book feel lighter than expected, and I found it disconcerting.
Also, the book feels like there wasn't a lot of time put into the layout phase. While there's nothing wrong with it, it just doesn't feel as professionally designed as it could — or should — have been.
The INFO:

Content Rules, by Ann Handley and C. C. Chapman
Wiley, 2011
ISBN: 978-0-470-64828-5
Help keep me doing book reviews: if you buy using this link, I get a wee chunk of the price, which helps support this part of my blog:  Content Rules: How to Create Killer Blogs, Podcasts, Videos, Ebooks, Webinars (and More) That Engage Customers and Ignite Your Business (New Rules Social Media Series)
Thanks.