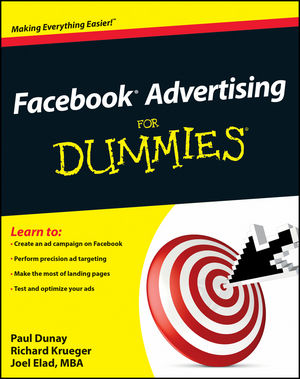 I have no idea why I got a copy of Facebook Advertising For Dummies
. I am hoping it's not because I'm a dummy, although that case could be made. It arrived via UPS one day with nothing but the book and a packing slip, so I'm assuming that it was sent to me to review.
UPDATE: I AM A DUMMY! Paul Dunay had tweeted out a call for reviews of the book, to which I responded. So that's how it got to me. I asked for it. Duh. That must have been, like, a couple of weeks ago!
So that's what I'm gonna do.
The Good:
Facebook Advertising for Dummies was written by Paul Dunay, Richard Kreuger, and Joel Elad, who I'd never heard of before, but that doesn't mean they're not reputable experts — after all, I'm sure they've never heard of me.
And the book is formatted and structured just as every other Dummies book, so if you've read one before, you'll know how to get to what you need.
Now the question for a book like this is: is it worth the $30 Canadian? And there's no way to say it's not. Facebook ads are one of the things that the Zuggernaut has gotten right (there's no need to enumerate what it's got wrong here), and they represent a cost-effective way for businesses and groups of all sizes to access online advertising in an easy, powerful way.
Facebook Advertising for Dummies gives you a practical and commonsense guide to using ads on Facebook. Some of the things that I think are particularly useful in the book:
how to design and optimize your ads
how to test ads before launching a campaign
how to integrate Facebook ads into your overall marketing strategy
how to manage multiple campaigns
how to work with the copious data that Facebook provides on ad performance
The Bad & The Ugly:
Overall, the book is a super resource, plainly written (which is a compliment) and useful. For me, the section that was least useful was how to design landing pages in Facebook. While I could likely figure out how to use FBML, I don't see that happening any time soon. Most of the time, someone better with code than I would be designing the landing pages (if the ads were going to point people to Facebook pages).
There's a lot of resource here, and it would likely be especially useful for small businesses or not-for-profits that want to get online but don't have an agency or money to spend on consultants. However, I suspect that as a PR guy who sometimes recommends that consulting clients use Facebook ads, I'll be continuing to refer to this book in time to come. Unless, that is, Facebook changes the way things are done. In which case I really will look like a dummy. And not the good kind.
The Info:
Facebook Advertising for Dummies, by Paul Dunay, Richard Krueger, and Joel Elad
Wiley, 2011
ISBN: 978-0-470-63762-3
Help keep me doing book reviews!
If you buy using this link, I get a wee chunk of the price, which helps support this part of my blog: Facebook Advertising For Dummies
.